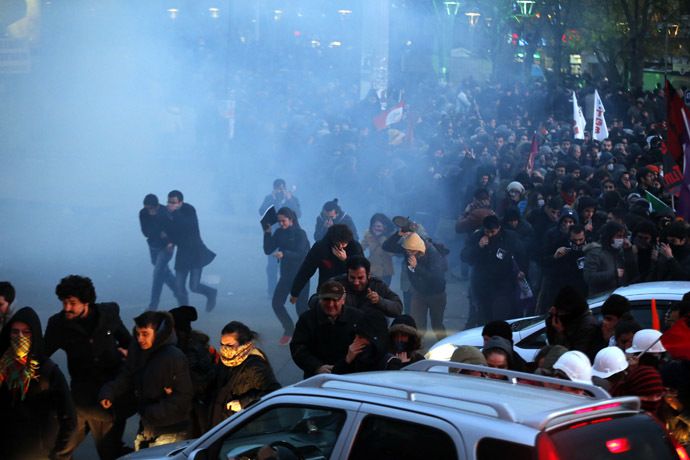 Anti-government protesters run as riot police fires tear gas during a demonstration in Ankara March 11, 2014. (Reuters)Police and protesters have clashed in several cities in Turkey as the country is gripped by unrest following the death of 15-year old Berkin Elvan. He was hit by tear-gas canister shot by police and died in hospital after 269 days in a coma, rt.com reports.
Thousands of people took to the streets of Turkey's biggest cities in Ankara and Istanbul after the family of Berkin Elvan confirmed his death and made the announcement on Twitter.
"To our people: We lost our son Berkin Elvan at 7am this morning. Condolences to us all," Berkin's parents wrote.
Hashtag #BerkinElvanÖlümsüzdür ("Berkin Elvan is eternal") trended globally on Twitter, as news of his death spread.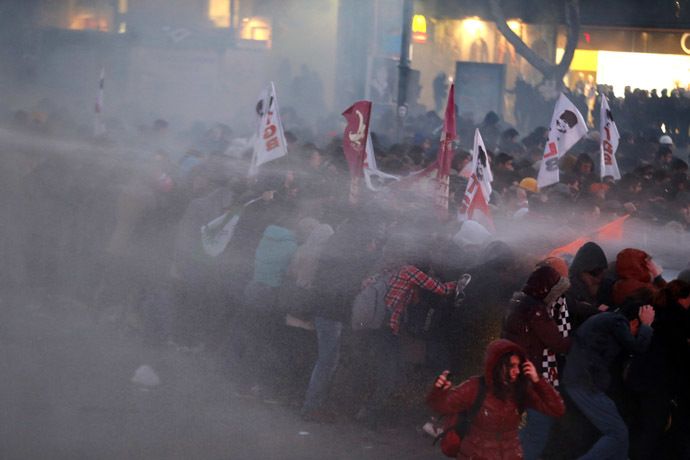 Anti-government protesters run as riot police fires a water cannon during a demonstration in Ankara March 11, 2014. (Reuters)Berkin Elvan became an accidental victim of anti-government protests over the Gezi Park re-development plan. On June, 16 he left home to buy some bread for his family, but on the way he was hit in the head with a tear-gas canister shot by the police during clashes with protesters.
"Elvan had an epilepsy attack on March 7th, when his heart stopped for nearly 20 minutes," the attorney told Anadolu on Sunday adding that "Berkin who was 45 kilos when he was shot, shrunk down to 16 kilos."
Upon learning about his death about 1,000 people staged a rally outside the Istanbul hospital where the teen was treated.
Outside the hospital security forces tried to disperse the crowd as some of the mourners attacked police cars with stone and sticks while forming barricades with rubbish containers, Anadolu Agency reported.
In Istanbul police used tear gas and water cannon after several dozen protesters outside the hospital hurled stones at a police bus and stole helmets and shields, English-language Hurriyet Daily News reported. It also cited an AFP photographer, who said that one demonstrator was injured.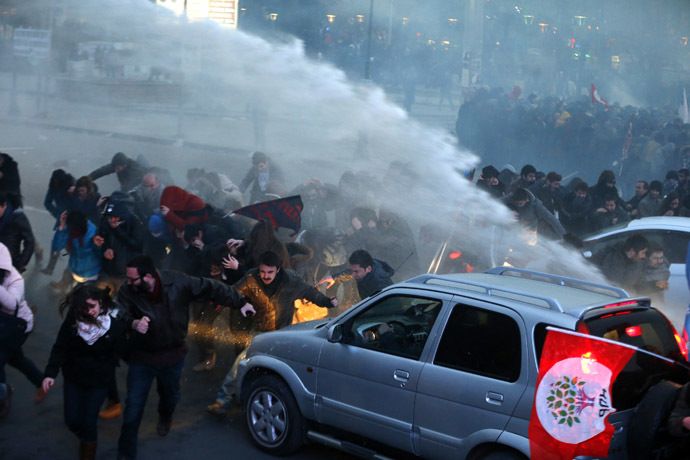 Protesters are hit by water cannon during clashes with riot police in Kadikoy, on the Anatolian side of Istanbul, on March 11, 2014. (AFP Photo)The boy's mother Gulsum Elvan has blamed the death of her son on Prime Minister Recep Tayyip Erdogan, who back in June praised the "legendary heroism" of police forces in quelling anti-government protests.
"It's not God who took my son away but Prime Minister Erdogan," she told reporters outside the Istanbul hospital.
March 12 2014, 15:36