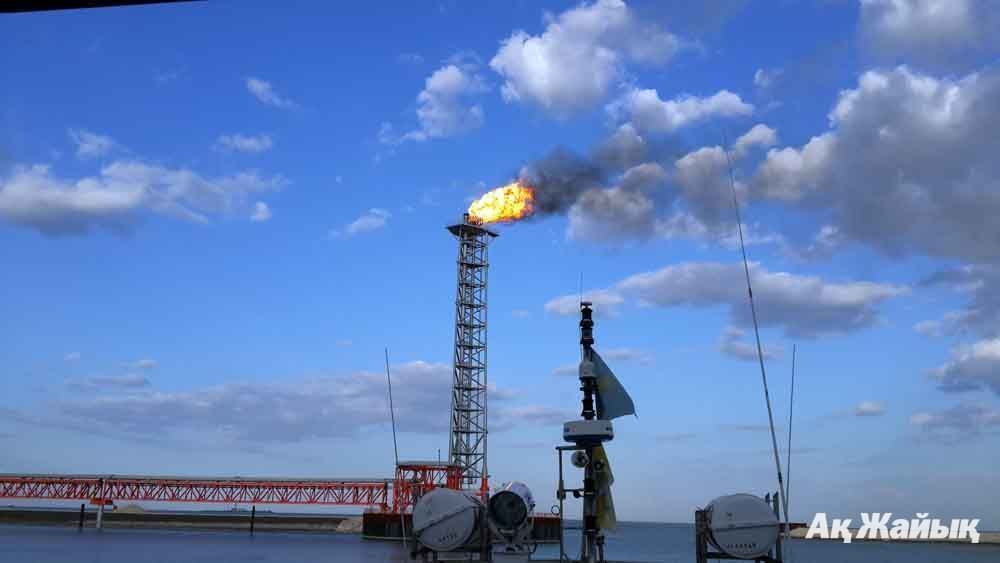 Emergency discharge of fuel gas at Kashagan's D island. 26 Aug 2013.Kazakhstan is suing the multinational consortium developing the huge Kashagan oilfield in the Caspian Sea for 134.2 billion tenge ($737 million) over damage to the environment, the Environment Protection Ministry said on Friday, reuters reports.
Production at Kashagan, the world's biggest oil discovery in 35 years, which took 13 years and some $50 billion to bring onstream, began in September but was stopped just weeks later after gas was found to be leaking from its pipelines.
Residual sour gas was then burnt in flares at Kashagan's processing plants, polluting the environment, the ministry said in a statement.
The claim against the North Caspian Operating Company (NCOC) was made by Atyrau Region authorities in western Kazakhstan where Kashagan is located.
NCOC, contacted by Reuters, declined immediate comment.
Checks at the oilfield showed that the volume of gas burnt in flares last September and October were 2.8 million cubic metres, exceeding legal limits, the ministry said.
Repeated delays have infuriated the Kazakh government, which has threatened to fine NCOC. However, the government has to date declined to give any details on possible fines.
Kazakh Prime Minister Serik Akhmetov said last week he hoped that the field could start producing again in the first half or early in the second half of this year with output seen at 3 million tonnes of crude by the end of 2014.
NCOC said last month that as a precautionary measure to save time it had begun a tender process for the potential purchase of pipeline joints "for various scenarios".
Exxon, Royal Dutch Shell, Total, Eni and Kazakh state oil company KazMunaiGas each hold a 16.81 percent stake in Kashagan.
Japan's Inpex has 7.56 percent, and China National Petroleum Corp (CNPC) bought a 8.33 percent in 2013 from ConocoPhillips.
The project aims to produce up to 1.66 million barrels a day - as much oil as OPEC member Angola - from a reserve almost as big as Brazil's.
Much of its infrastructure is built on artificial islands to avoid damage from pack ice in a shallow sea, which freezes five months a year in temperatures that drop below minus 30 degrees Celsius (-22 F).
March 7 2014, 12:52