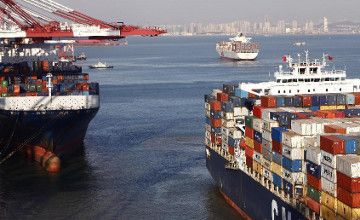 China was the largest goods trading nation in 2013, a Ministry of Commerce statement said on Saturday, citing data from the World Trade Organization (WTO), according to xinhua.
China's goods trade topped 4.16 trillion U.S. dollars last year, including 2.21 trillion dollars in exports and 1.95 trillion dollars in imports, the statement said. This is a milestone in foreign trade for China as a developing country and a great achievement, said Yao Jian, ministry spokesman.
The country's exports and imports have leapfrogged in 35 years of reforms and opening-up, especially after China's entry into the WTO, he said.
China now is the largest trade partner for over 120 countries and regions and imported nearly 2 trillion U.S. dollars of goods annually, providing lots of jobs and investment opportunities for global trade partners, Yao said.
Though it is the largest trading nation, China still has a long way to go before becoming a strong trading country because its exports are of relatively low added value, it has relatively few independent brands, the marketing network is not sound enough, and its products are of relatively low quality, he stressed.
Facing new challenges, China should actively promote models of growth, restructure the economy and step up cooperation with trade partners to achieve mutual benefit, Yao said.
March 3 2014, 10:46