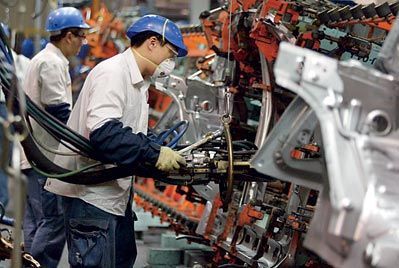 The Government of Kazakhstan established quotas for attraction of foreign workforce in 2014. It is envisaged to attract 5142 people for implementation of various priority projects, azh.kz reports citing the government resolution published on Thursday.
According to the document, foreign experts will be involved in implementation of 8 projects: the construction of Aktogay mining and processing complex - 800 people, the construction of Bozshakolsky mining and processing facility - 1920 people, expansion and upgrade of Ekibastuz power station GRES-2 (installation of power unit at station #o3 - 1286 people), the construction of Balkhash thermal power plant - 800 people, the construction of cascade of small hydroelectric power stations on the Koksu River, the construction of power plants for mining facilities GES-1 and GES-2 and other. (The applicant is Datang-TT-Energy LLP - 90 people).
The foreign experts will also be involved in creation of production unit of Ssang Yong cars (Nomad model) using CKD assembly method - 81 persons and the constructions of cement factory - 150 people.
February 27 2014, 10:38