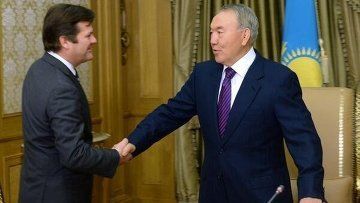 Photo: © AkOrda press service.Kazakhstan plans to launch an airline to perform domestic flights, President Nazarbayev said during his talks with Pierre Beaudoin , President and Chief Executive Officer of Bombardier Inc., the world's only manufacturer of both planes and trains, tengrinews reports.

At the talks the sides dwelt on prospects of such an airline in Kazakhstan.

Head of State emphasized that some concrete steps to maintain close ties in the transport industry were taken at the World Economic Forum in Davos.

"We are interested in Bombardier's entering the Kazakh market. In this context we plan to launch Air Kazakhstan airline to perform domestic flights", the President is quoted by his Press Service as saying.

President elaborated that Kazakhstan had already launched Air Astana in partnership with BAE Systems. "We can build on the experience when launching the new airline", he said.

According to him, Kazakhstan is interested in other projects in the industry. "Cooperation to train pilots and qualified personnel for aircraft maintenance centers in Kazakhstan is also of great importance", he said.
He stressed it was important for Bombardier to launch a representation office in Kazakhstan to facilitate close cooperation and joint operations at the regional level.

Pierre Beaudoin emphasized the importance of the talks to further cooperation in the transport industry. "We are ready to work to upgrade the quality of transport services and boost the industry in Kazakhstan. Delivery of aircraft is just a part of our joint operations. We plan to transfer technology and share our experience. We will be providing trainings to Kazakhstan's pilots, constructing aircraft maintenance centers (…) thus we have long term plans in Kazakhstan".


February 26 2014, 14:40