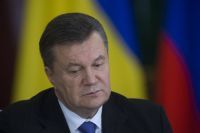 The Ukrainian parliament has voted in favour of ousted president Viktor Yanukovych being tried at the International Criminal Court for serious crimes, rti.ie reports.
A resolution said Mr Yanukovych and others caused the deaths of more than 100 people and the injury of 2,000.
The parliament said former Interior Minister Vitaly Zakharchenko and former Prosecutor-General Viktor Pshonka, who are being sought by the authorities, should also be sent for trial at the ICC.
A spokesman for the ICC, which is based in the Hague, said it had not received a request from Ukraine's government tasking it to investigate events leading up to the ouster of Mr Yanukovych.

"A government can make a declaration accepting the court's jurisdiction for past events," said court spokesman Fadi ElAbdallah, adding that it would then be up to the court's prosecutor to decide whether or not to open an investigation.
Earlier, Ukrainian interim leader Oleksandr Turchynov said parliament has delayed forming a new unity government until Thursday.
Parliament had been due to form a new government today after Mr Yanukovych was ousted as president at the weekend.
Mr Turchynov, who was declared interim head of state in his place, said this morning that more time was needed for consultation.
The situation in Ukraine is far from stable as many regions in the south and east are refusing to recognise the interim leaders in Kiev.
Mr Turchynov has said he will meet law enforcement agencies to discuss what he described as "dangerous signs of separatism" in some regions.
Leader of Batkyvschina party Arseniy Yatsenyuk described the previous government as "murderers".
"The previous authorities have destroyed the basis of justice and have built not even a mafia, but a gangster system, a system based on corruption and murderers," he told the parliament.
"For this there is only one way - the International Tribunal in the Hague. Right now we need to calm people to begin the rebuilding of the country."
Presidential elections are due to be held on 25 May.
Opposition leader Vitaly Klitschko has said that he will run for president in the elections.
Russia's foreign ministry has said a forced change of power was taking place.
It has accused interim leaders of passing new laws aimed at infringing the humanitarian rights of Russians and other ethnic minorities.
Russian Foreign Minister Sergei Lavrov said Ukraine must not be forced to choose between close ties with Russia or the West.
European Union foreign policy chief Catherine Ashton has said that any new government in Ukraine must be "inclusive".
Ms Ashton said the EU understands the strong links between Ukraine and Russia.
She said she was in Ukraine to offer strong support to the country, help it stay strong and go forward in the way it chooses.
Ms Ashton arrived in Kiev yesterday to discuss measures to shore up Ukraine's ailing economy.
She held talks with a number of political leaders, who had earlier issued an arrest warrant for mass murder against Mr Yanukovych.
The finance ministry has said Ukraine needs urgent financial assistance to avoid default.
Elsewhere, British Foreign Secretary William Hague will join US Secretary of State John Kerry for talks on emergency support for Ukraine.
Mr Hague has warned that Ukraine faces imminent economic collapse without support from the international community.
The US has said it stands ready to plough in cash with other partners to stabilise the country.
February 25 2014, 17:54