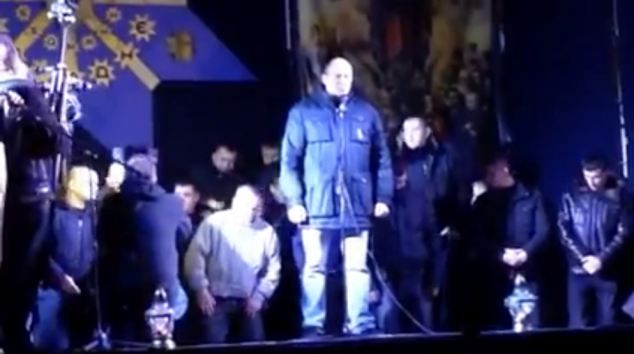 Officers from Lviv Berkut Special Police Unit beg people of Ukraine to forgive themюAbout 100 officers of Berkut special forces in Ukraine fell to their knees to ask for forgiveness in the centre of Lviv on February 24, for their colleagues who shot and beat antigovernment protesters in the recent Kiev massacre, azh.kz reports.
'I am asking you to forgive us,' said an officer who stood in front of other men. In memory of those who were killed, we want to kneel down.'
The crowd chanted 'Shame!' and 'Tribunal' and threw at the officers small items. The crowd was held back by the activists of "Self Defence" and the priest was also trying to calm them down.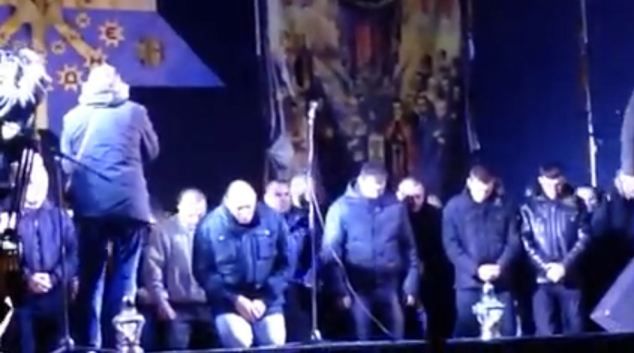 Returning from duty in Kiev, crowds greeted them with chants of 'Shame!' and 'Tribunal' Berkut officers publicly promised that in the future they will always be on the side of the people and they stressed that Berkut forces from Lviv had not killed or beaten people in Kiev.
Today it was revealed that some Berkut riot police personnel have disappeared along with weapons.
'We have difficulties with the Berkut units which have been left without leadership.
Among other police forces, the protesters noted the excessive brutality of Berkut forces against the protesting people.
February 25 2014, 17:01