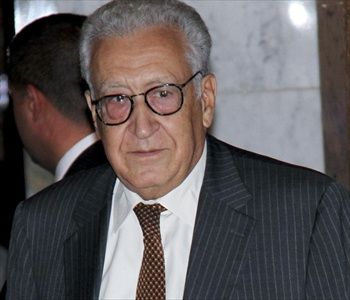 Photo: Lakhdar Brahimi: "If this initiative works, we hope to build on it and aim for a lasting and solid ceasefire"The UN's envoy to Syria Lakhdar Brahimi says President Bashar al-Assad's government has agreed to abide by a ceasefire during the Islamic holiday of Eid al-Adha, reports BBC on Wednesday.
Lakhdar Brahimi told reporters in Cairo that most opposition factions had also said they would observe any ceasefire.
The government said it would make its final decision on Thursday.
Mr Brahimi said he hoped to use the lull in fighting over Eid al-Adha, which starts on Friday, to "discuss a longer and more effective ceasefire".
Eid al-Adha, the Festival of the Sacrifice, is celebrated by Muslims to commemorate the willingness of Abraham to sacrifice his son Ishmael as proof of obedience to God.
Mr Brahimi has travelled across the Middle East over the past two weeks in an effort to persuade the Syrian government and opposition, as well as their respective backers, to agree to his proposal for a ceasefire to "allow a political process to develop".
Jon Leyne,BBC Middle East correspondent in Cairo, believes that Lakhdar Brahimi's surprise announcement of a Syria ceasefire raises as many questions as it answers. While he believes the Syrian government has agreed to the ceasefire, only some of the rebel groups are on board. There are so many different rebel groups it may be impossible to win unanimous agreement from them. It could also be true that the Syrian government actually has more interest in a ceasefire, while it remains in power.
Human rights and opposition activists estimate that more than 30,000 people have been killed since the uprising against President Bashar al-Assad began in March 2011.
WKT citing bbc.co.uk
October 24 2012, 17:32