By Zeena Urynbassarova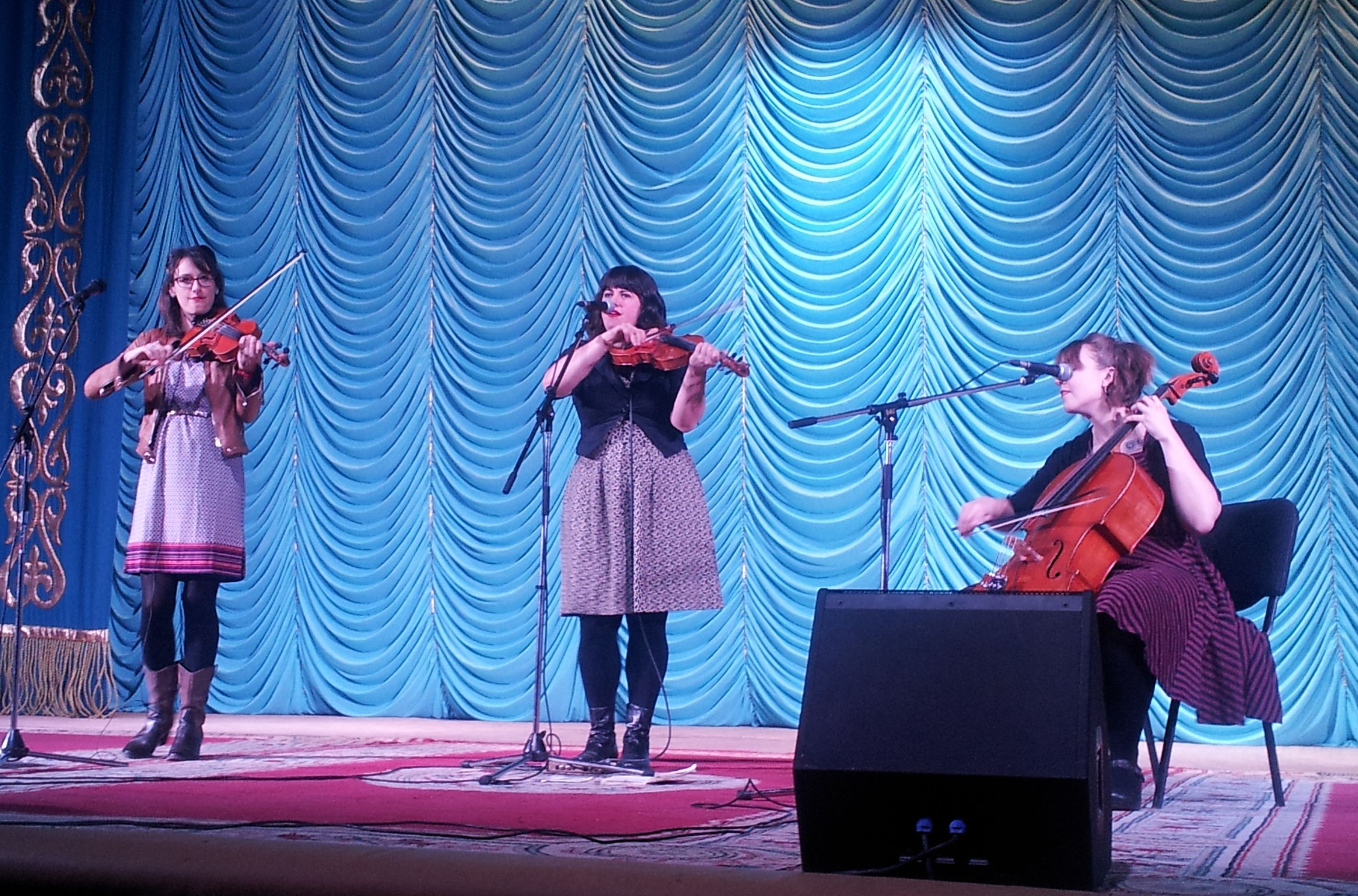 Cortese & the Dance Cards Trio in Atyrau Drama Theatre, Feb 17, 2014. The American trio Laura Cortese & the Dance Cards has performed in Atyrau Drama Theatre on February 17. The tour has been organized by the U.S. Embassy in Kazakhstan within the framework of the programme "American Music Abroad".
The Cultural Attache of the American Embassy Drew N. Peterson presented the trio to the audience. The trio consists of three female musicians: Lora Cortese (fiddle/vox), Valerie Thompson (cello/vox) and Mariel Vandersteel (fiddle/hardingfele/vox). Since appearing on Cortese's most recent album, Into the Dark (2013), Valerie Thompson and Mariel Vandersteel have paired their sophisticated string arrangements and rich vocal harmonies to Cortese's poignant and powerful singing. Seeing the trio on stage, you get the sense that they might snap some fiddle strings or punch a hole in the bass drum. This is post-folk that seriously rocks.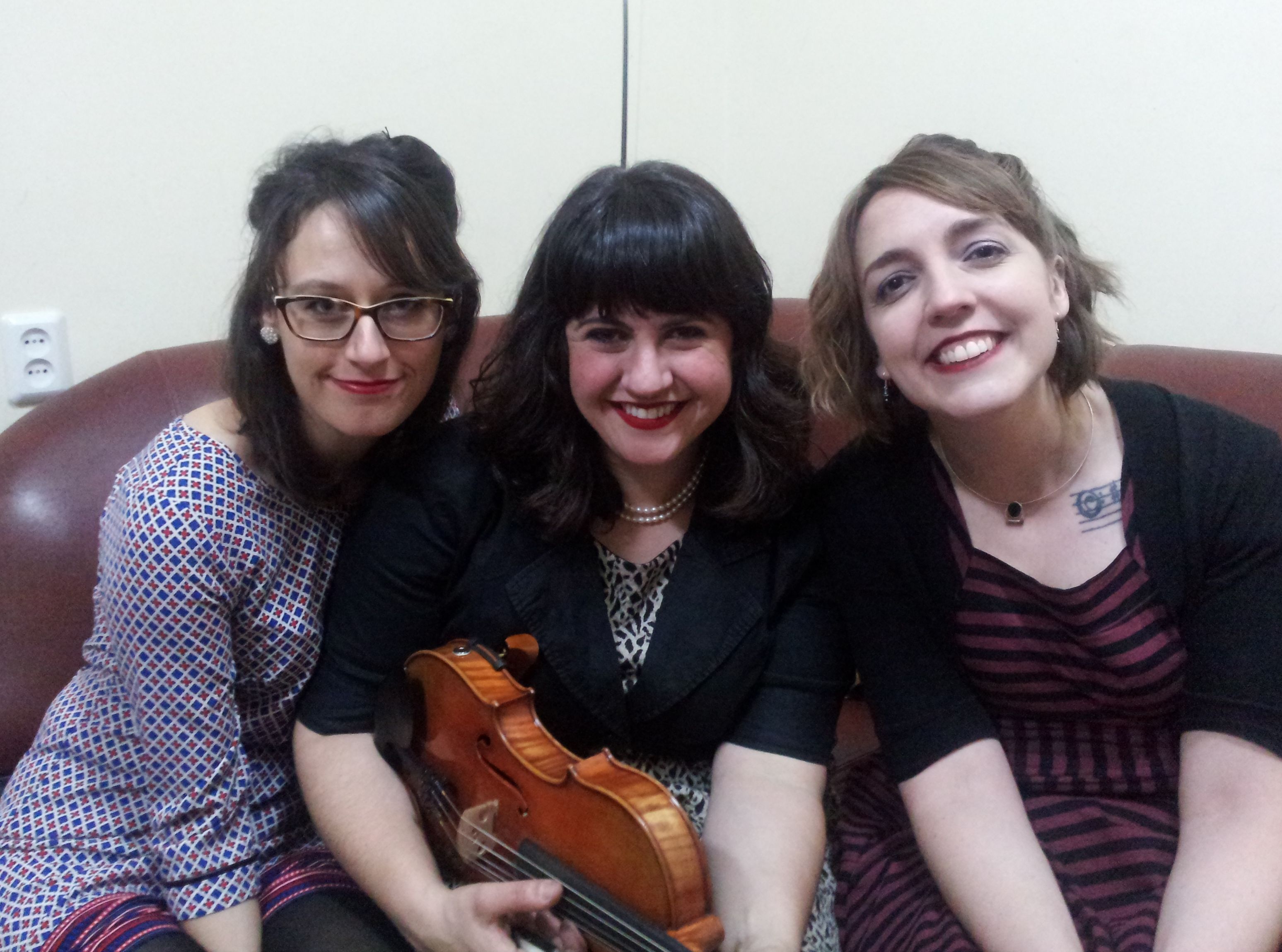 Lora Cortese (middle), Mariel Vandersteel (L), Valerie Thompson (R). Originally from California, but now based in Boston, the trio leader - American singer, songwriter, and fiddler Laura Cortese is a graduate of the latter city's prestigious Berklee College of Music, whose early love-affair with traditional Scottish music – discovered partly through Alan Lomax's classic field recordings – has evolved into a distinctively lo-fi, stripped-down blend of folk and indie styles. Having played Madison Square Garden earlier this month, among the star-studded line-up for Pete Seeger's 90th birthday concert – Cortese being one of the US folk godfather's current accompanists of choice – she performed here with electric guitarist Jefferson Hamer, who also supplied backing vocals.
Plucking or strumming her fiddle as often as she played it with the bow – and singing all the while in either case – she laid vibrant, pulsing grooves beneath a mixture of original songs, contemporary covers and reworked traditional numbers, delivered in a voice that mingled shades of blues, gospel, country, vintage jazz and spiky chick-rock.
The trio has a very tight schedule. They perform on the stage nearly every day. In-between the concerts they played in local restaurants and cafes where they had lunch or visited the students of Atyrau music academy to give master class. They arrived to Atyrau from Aktau and then left for Astana and then Almaty. After the tour in Kazakhstan they are going to Uzbekistan, Bangladesh and then to Europe and Canada.
During their performance the trio managed to "carry" the audience somewhere to the southern states of the USA, to the places where cowboy and coutry music reigns.
The atmosphere of the concert was very warm and interactive. Lora, Valerie and Mariel thanked the Atyrau audience for hospitality and took a picture of an exulting Atyrau audience on their smart phones as a memento.
Photos by the author
February 20 2014, 17:07