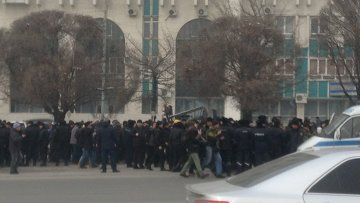 Police forces arrested anti-devaluation protestors of the unauthorized meeting in Almaty, azh.kz reports.
Meeting participants gathered on Saturaday morning near the monument to Abai and spent there about 1 hour. The protested urged government to take actions over increasing prices and socioeconomic problems. There were demands about the change of the power in the country. Then the protesters marched to the Republic square towards the city hall and Independence monument. Here they were cordoned off by the police forces who tried to enclose the protesters and chased those who tried to escape.
"Police did not intervene in the initial protest (which began with around 50 people) – even when some demonstrators cried "Shal, ket!" ("Old man out!") in an apparent reference to 73-year-old President Nursultan Nazarbayev, who has been in power for over two decades.
The crowd swelled as protesters started marching toward the city hall to cries of "Alga! Kazakhstan" (Forward! Kazakhstan) and "we have nothing to fear in our own country!" - reported eurasianet.org.
At the Republic Square the police forces detained the most active participants of the meeting. It was unclear how many arrests were made, but the witnesses spoke about 30 people. Three trucks containing detainees drove off.
The journalists reported that there were about 100 protesting people on the square.
On February 11, Kazakhstan's central bank devalued the tenge by about 19 percent against the dollar, prompting widespread panic and the closure of many currency-exchange and retail outlets.
February 15 2014, 17:01