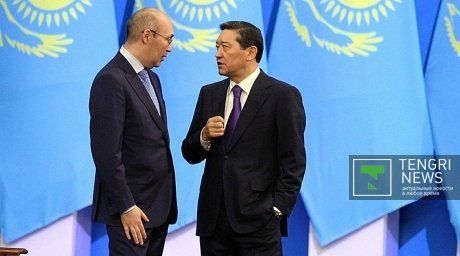 Kazakhstan's Central Bank Governor on immediacy of the decision to devalue the national currency by 20% The decision to devalue the tenge, Kazakhstan's national currency,by 20% had been thought over for half a year, Tengrinews.kz reports, citing the country's Central Bank Governor Kairat kelimbetov as saying at a press-conference at the President's Public Communications Service, tengrinews.kz reports.

"The decision had been developed for the last half a year (…) an important factor was the country's 2013 balance of payments. Only recently did we start getting a variety of research on the 2013 performance, including reports on individual currencies of our trade partners such as the EU, Russia, China (…) When we analyzed all that it was clear some changes were inevitable", he said when answering journalists' questions.

According to him, the Bank had been thinking of the timing (…) "it's not a secret that every February there is a so-called tax week, during which exporters sell their US Dollars to be able to pay taxes in tenge bills. It is the quietest period for the entire financial system. The decision on the currency devaluation was taken at the threshold of such a week. We made sure there would be no leaks. On that day we were working late and the National Bank made the decision", Mr. Kelimbetov said.

When asked why he hadn't told the general public about the forthcoming devaluation and even had assured there would be no devaluation, he answered "if I had told that in three days we would make the decision, individuals and legal entities would have flocked to convert their savings to US Dollars. And the entire financial system would have collapsed. That is why the decision turned out to be unexpected", he said.

Starting from February 11, 2014 Kazakhstan's Central Bank decided to stop supporting the tenge exchange rate, decrease currency interventions and stop interference with shaping the tenge exchange rate.
February 12 2014, 18:01