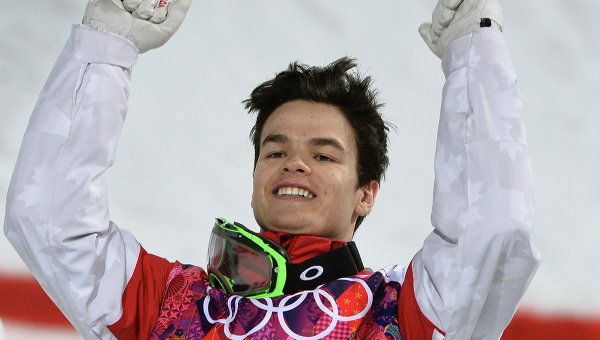 Mikael Kingsbury, Canadian freestyle skierOn Sochi's Black Sea coast and up in the Caucasus mountains, Monday was Canada's day at the Winter Olympics, as two of its biggest winter sports stars snatched gold, ria.ru reports.
At the Olympic Park's Adler Arena, it was short-track speedskater Charles Hamelin who was the hero in the 1,500 meters, while moguls skiers Alexandre Bilodeau and Mikael Kingsbury cemented their dominance of moguls skiing with a 1-2 finish.
It all sends Canada to the top of the medals standings, with a special mention for Quebec. Athletes from the French-speaking province brought Canada all of its three medals Monday, and were it independent, Quebec would now be second in the medal table.
"It's pretty crazy," said Mikael Kingsbury, who took silver in the moguls behind Bilodeau. "We're all going there to win the most medals. We're a strong country. We're ready, I think, more than ever."
"I'm very happy to be here and to be Canadian and to help Canada to achieve, to be first with all the gold medals."
The other nation with much to shout about Monday was the Netherlands, sweeping a speedskating podium for the second time in three days. Twins Michel and Ronald Mulder of the Netherlands took gold and bronze in the men's 500 meters, with only their countryman Jan Smeekins in between.
Elsewhere, there were few major shocks as star names sealed their place in history. German skier Maria Hoefl-Riesch was already regarded as one of the best-ever all-round skiers, but retaining Olympic super combined gold cements that reputation, especially as she finished above fellow jack-of-all-trades Tina Maze, who could only manage fourth.
At the biathlon track, the sport's darling Martin Fourcade finally won Olympic gold with a near-flawless run in the 12.5 kilometer pursuit, filling a gap in a career littered with world championship and World Cup titles.
In a race littered with errors for almost every big name biathlete bar Fourcade, Norway's Ole Einar Bjoerndalen came agonizingly close to a Winter Olympic-record 13th medal, missing the bronze by 1.7 seconds.
For host nation Russia, it was something of a low-key day, with just two bronze medals. One of those was won by naturalized South Korea short-track legend Viktor Ahn, who finished third behind Hamelin, and another for moguls skier Alexander Smyshlyaev, who delighted the home crowd at the Rosa Khutor Extreme Park by denying the Canadians a medal sweep.
"The energy. I can't put it into words how you're standing at the start and the crowd's going wild," said Smyshlyaev, who had never previously won a major medal, when asked how he managed to mix it with the sport's top skiers.
The men's curling kicked off according to the form guide with Canada, Britain and Sweden all registering comfortable wins. But by session two in the evening, only world champion Sweden had its perfect record intact with a 8-4 win over David Murdoch's Britain. Two-time and reigning champion Canada suffered a shock 5-4 defeat to Switzerland.
On Tuesday, Germany is all but assured of a second gold of the Games in luge as Natalie Geisenberger on Monday built a near-impregnable 0.766-second lead over compatriot Tatiana Huefner in the first two runs of the women's luge Monday at the Sanki Sliding Center.
Tuesday sees two events debut in the mountains, with the first-ever women's ski slopestyle final at an Olympic Games and the arrival of women's ski jumping 90 years after the men's debut.
There are also men's and women's cross-country skiing team sprints, the men's snowboard halfpipe, the 10 kilometer women's biathlon pursuit and women's 500 meter speedskating finals.
February 11 2014, 11:23