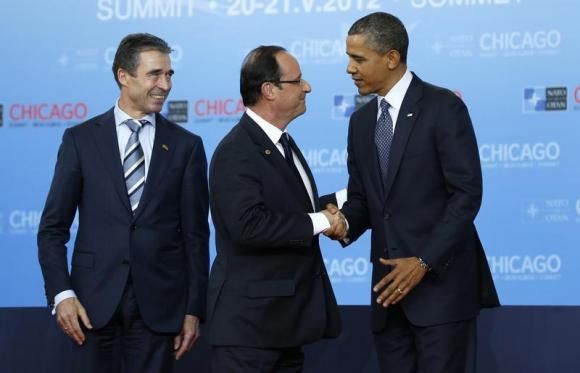 U.S. President Barack Obama (R) and NATO Secretary General Anders Fogh Rasmussen (L) welcome French President Francois Hollande to the NATO Summit in Chicago, May 20, 2012.French President Francois Hollande starts a visit to the United States on Monday with spats over U.S. eavesdropping and trade talks with the EU unlikely to chill a relationship now far warmer than before the 2003 U.S.-led war on Iraq, reuters reports.
Hollande, 59, who split from his partner last month after an affair with an actress, arrives solo for the first state visit hosted by President Barack Obama and his wife Michelle in nearly 2-1/2 years.
The United States and France, whose alliance dates to the founding of America in the late 18th century, are working together on Iran, Syria, North Africa and other trouble spots.
The collaboration is a far cry from the strains of a decade ago when France refused to join the Iraq war.
"France is a solid ally of the United States but always retains its independence," Hollande told Time magazine in an interview published last week.
He made clear that he shared European anger over National Security Agency practices that "should never have existed" and had caused "a difficult moment, not just between France and the United States but also between Europe and the United States".
On Monday, French Foreign Minister Laurent Fabius said talks to resolve the spying issue were under way.
"There was behavior that wasn't specifically targeted at France, but it was unacceptable," he told RTL radio.
"So there are more talks, which are not finished, but gains have been made. The U.S., with checks in place, won't be able to spy on the president and we'll verify that this is the case."
Washington's relations with the European Union have also been ruffled by a U.S. diplomat's secretly recorded expletive to disparage the EU's handling of the political crisis in Ukraine.
The United States and France have cooperated in diplomacy on Syria and Iran, but do not always agree on economic issues such as a U.S.-EU trade deal on which negotiations began in July.
February 10 2014, 18:04