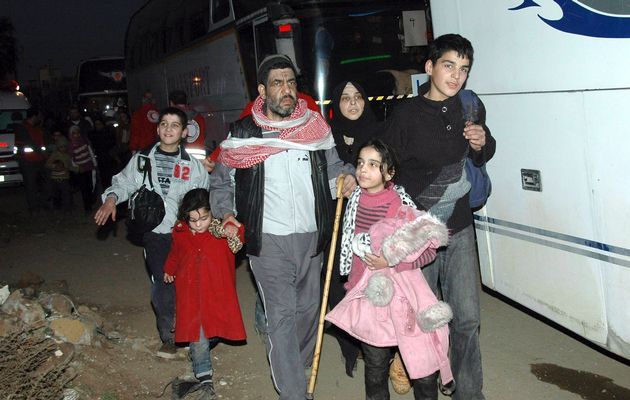 A family from a besieged area of Homs arrive to the area under government control February 9, 2014. Image by: SANAHundreds of civilians were evacuated from the besieged Syrian city of Homs, braving gunmen spraying bullets and lobbing mortar shells to flee as part of a rare three-day truce to relieve a choking blockade. timeslive.co.za reports.
The cease-fire came as Syrian officials arrived in Switzerland for a new round of United Nations-mediated talks with opposition activists in exile to try negotiate an end to Syria's three-year conflict.
More than 600 people were evacuated from Homs on Sunday, said Governor Talal Barrazi.
The operation is part of a UN-mediated truce that began Friday between the government of President Bashar Assad and armed rebels to allow thousands of women, children and elderly men to leave opposition-held parts of the city, and to permit the entry of food and supplies.
Forces loyal to Assad have blockaded rebel-held parts of Homs for over a year, causing widespread hunger and suffering.
Dozens of people were wounded when they came under fire as they waited at an agreed-upon evacuation point in the rebel-held neighbourhood of al-Qarabis, according to three activists based in Homs, who spoke to The Associated Press by Skype.
Despite the gunfire and exploding mortar shells, hundreds of women, children and elderly men ran toward a group of Red Crescent workers waiting less than a mile (kilometer) away, said an activist who gave his name as Samer al-Homsy.
The Syrian activists said the gunfire came from a government-held neighbourhood.
The Syrian news agency SANA also reported that civilians came under fire, but blamed "terrorists," the government term for rebels. The Britain-based Syrian Observatory for Human Rights, said explosions and gunfire near the evacuation site killed five men and boys. The Observatory bases its information from a network of activists on the ground.
At least four busloads of civilians were shipped out, according to footage broadcast on the Lebanese television station al-Mayadeen. Wide-eyed children, their prominent cheekbones suggestive of malnutrition, tumbled out of a bus, assisted by aid workers.
"Our life was a disaster, we had no food, no water," one distressed woman said.
"There was nothing, my children are all sick. They were thirsty," she said, standing with a group of exhausted-looking children, as khaki-clad Syrian soldiers, Red Crescent workers in red jump suits and UN workers in blue protective vests gathered around the buses.
Khaled Erksoussi of the Syrian Red Crescent, which is assisting the evacuation, told the AP that the agency hopes to evacuate as many civilians as possible before the truce expires Monday. Homs Governor Barrazi said he hoped to try to extend the truce for another three days.
On Saturday, gunmen opened fire on civilians, leaving aid workers wounded and two trucks damaged, Erksoussi said, speaking by telephone from Damascus.
Despite the violence, the UN High Commissioner for Refugees, António Guterres, said in a statement that the truce showed "that even in the darkest of nights it is possible to offer a glimmer of hope to people in desperate need of assistance."
The Homs cease-fire was arranged by UN mediator Lakhdar Brahimi, who urged the warring sides to aid the estimated 2 500 civilians trapped in the ancient, rebel-held quarters known as Old Homs, in order to build trust during the first face-to-face meetings of government officials and opposition figures in Switzerland last month.
But the truce only occurred after talks ended. The truce's last day, Monday, now coincides with the beginning of another round of talks in Switzerland.
The Syrian delegation arrived in Switzerland Sunday evening.
Homs was one of the first areas to rise up against Assad in 2011 and has been particularly hard hit by the war. Over the past year, the government regained control over most of the city, except for neighbourhoods in the historic centre.
Meanwhile, in the northern city of Aleppo, Syrian government aircraft dropped makeshift barrel bombs on a series of rebel-held districts on Sunday, including one that killed more than 15 people in the rebel-held Haydariyeh, said the activist group, the Aleppo Media Centre. The bombs set ablaze nine vehicles, including those carrying civilians fleeing the area.
The bombs are crude weapons packed with explosives, fuel and scraps of metal that are hurled from the back of a helicopter.
Sunday's attacks are part of a weeks-long campaign by Assad's forces to wrest control of Aleppo, parts of which were seized by rebels in mid-2012.
The Syrian uprising began with largely peaceful protests but gradually evolved into a civil war with sectarian overtones pitting predominantly Sunni Muslim rebels against Assad's government, which is dominated by Alawites, an offshoot of Shiite Islam.
More than 130 000 people have been killed, according to activists. Millions have been forced out of their homes, seeking shelter in neighbouring countries or in safer parts of their homeland.
February 10 2014, 17:46