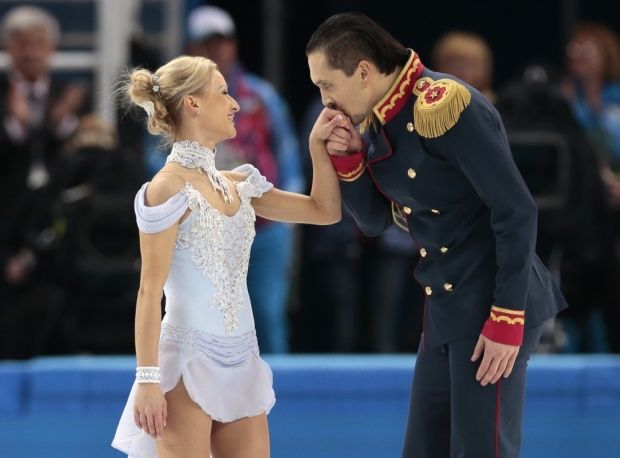 Tatiana Volosozhar and Maxim Trankov of Russia made a spectacular performance, which brought them ten scores and put the Russian team result ahead of othersHighlights of the main events and statements of the first day of Sochi Olympics.
23:12. Russia's team in first place after the first day of the team figure skating tournament. Tatiana Volosozhar and Maxim Trankov of Russia made a spectacular performance, which brought them ten scores and put the Russian team result ahead of others.
22:31. Father Frost, a Russian Santa Claus, wished Russian Olympic athletes to win as many gold medals as possible.
21:18. Evgeni Plushenko completes his short program in figure skating team competition. Upon the completion of the first leg of the team tournament, Plushenko was second in men's short program.
20:23. With only one day left before the official opening of the 2014 Winter Games in Russia's Sochi, women freestyle skiers took part on Thursday in the first out of two qualifying sessionsin moguls.
19:52. The Australian Olympic Committee announced on Thursday that two-time snowboard world champion Alex Pullin will be the flagbearer of the national team at the opening ceremony of the 2014 Winter Games in Russia's Sochi on February 7.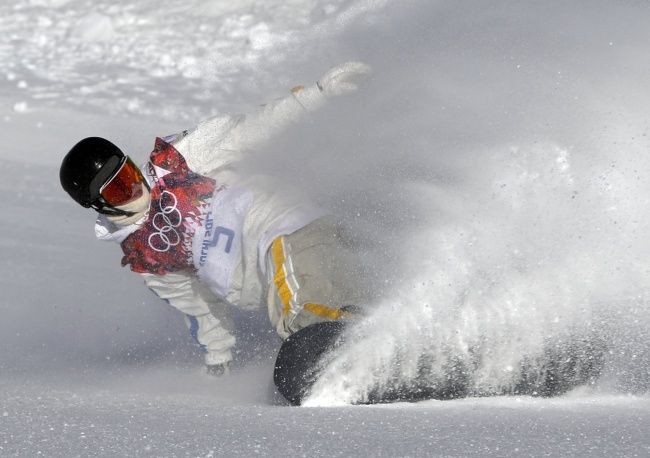 It all started with slopestyle. Sweden's Niklas Mattsson finishes his first run during men's snowboard slopestyle qualifying AP Photo/Andy Wong19:40. US freestyler Heide Closer received an injury in the course of a practice drill, the Olympic News Service said.
18:44. Canadian snowboarder Spencer O'Brien said she was excited and happy that women snowboard slopestyle made its Olympic debut at the 2014 Winter Games in the Russian Black Sea resort city of Sochi.
18:26. No Georgian leader will attend the Olympic Games in Sochi, a representative of the Georgian Foreign Ministry told reporters.
18:14. Russian President Vladimir Putin and his Chinese counterpart Xi Jinping wished Russian and Chinese athletes victories at the Winter Olympics in the southern Russian city of Sochi.
18:06. President of the Russian Olympic Committee Alexander Zhukov said that a Fan House which opened in Sochi earlier on Thursday will be able to welcome up to 10,000 fans every day.
16:44. Coach of famous Russian figure skater Evgeni Plushenko said he realizes that the current 2014 Winter Games in Sochi will be the last for the talented athlete. "I understand that this will be the last Olympics for him," Alexei Mishin said. "But life in the figure skating is very long and I am sure that our cooperation will not come to a stop (after the Sochi Olympics)."
15:57. Russia's Minister of Foreign Affairs Sergei Lavrov makes a statement regarding political personages, who refused to visit Sochi Olympics. "I can't remember that the Olympic Games, wherever they were, were accompanied by such talks and discussions how many heads of state arrived there. No one has ever calculated. When one started calculating decided that it was necessary to do harm to Russia to make it feel uncomfortable," Lavrov said.
15:28. Russian Deputy Prime Minister Dmitry Kozak speaks about security level in Sochi at a news conference.
15:15. Canadian snowboarder Sebastien Toutant said he had no issues with the Olympic slopestyle trailat the Rosa Khutor Extreme Park in Russia's Sochi and its configuration was completely satisfactory. The 21-year-old snowboarder said one can get seriously injured on any trail because slopestyle is an extreme sport and snowboarders should always bear in mind that they are at a constant risk. Earlier in the week, slopestyle medal contender Torstein Horgmo from Norway sustained a collarbone fracture at the Rosa Khutor Extreme Park course after crashing in a rail at a training session.
15:04. Russian Minister of Sports Vitaly Mutko says Russia's men's ice hockey team will play in the Winter Olympics with the strongest squad in the last few years. It was earlier reported that forward Pavel Datsyuk, who had not played over an injury since Jan. 1, started ice training.
15:00. Slopestyle qualifiers finish in Sochi's Roza Khutor Extreme Park. The four snowboarders, who after the first heat qualified straight to the final, are Staale Sandbech of Norway, Peetu Piiroinen of Finland, Sebastien Toutant of Canada and Jamie Nicholls from Great Britain. Alexey Sobolev, the only Russian competing in slopestyle, finished in 10th place out of 15 athletes.
13:49. Armenian presidential press service reports that President Serzh Sargsyan will leave for Sochi on Thursday to take part in the Olympic opening ceremony.
13:30. Russian Deputy Prime Minister Dmitry Kozak stated that Russia has fulfilled its commitments on preparing for the 2014 Olympic Winter Games in Sochi.
13:21. Canadian curler Jennifer Jones praises Sochi Olympics arrangement. She noted that everything that Canadian athletes have seen in Sochi so far exceeded their expectations.
12:53. Russia's telecom provider Rostelecom has launched the LTE network in Sochi. 40 basic net stations located at the mountain and coastal clusters are capable of delivering a peak data rate of 60 Mbps.
12:42. UN Secretary-General Ban Ki-moon called for stopping military conflicts all around the world during the Olympic Games in Sochi. "Hatred of any kind must have no place in the XXI century. We must all raise our voices against attacks on lesbian, gay, bisexual, transgender or intersex people," Ban told the IOC session.
12:35. Major part of Georgia's Olympic team has left for Sochi.
09:57. Olympic competitions start today with men's and women's slopestyle, women's mogul and team figure skating short programs.
04:42. Russian Father Frost (Ded Moroz) opens his official residence in Sochi. It is located near the Medal Plaza sports area and the Iceberg and Fisht Olympic stadiums. During the Games it will become one of the main attractions for children and foreign guests, as its aim is to familiarize them with the self-identical Russian culture, and is expected to welcome up to 75,000 visitors.
February 7 2014, 15:24