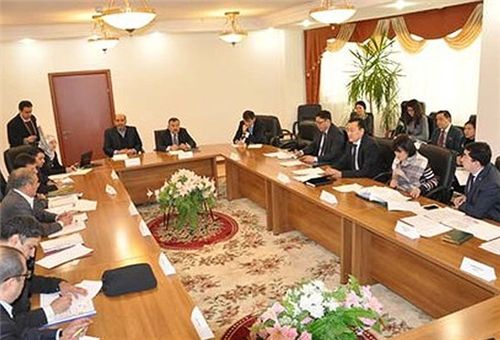 Iran and Kazakhstan will further expand trade and business cooperation in the near future.Iran's minister of economic affairs and finance, Ali Tayyebnia met the Minister of Industry and Trade of the Republic of Kazakhstan, Asset Issekeshev, fars news agency reported on Jan 27.
During a meeting between the Iranian Minister of Economic Affairs and Finance and the Minister of Industry and Trade of the Republic of Kazakhstan, the pair revealed their interest to extend mutual investment on regional development and transportation capabilities of the two countries.
Referring to strong capacities of the two neighbours in transit sector, Asset Issekeshev called for speeding up the construction schedule for the Kazakhstan - Turkmenistan - Iran transit corridor and described it as a platform to boost trade ties in the region.
The Kazakh Deputy Prime Minister went on to underline Iran's recent advances in nanotechnology as well as in other technical and engineering services and welcomed the Iranian experts to take part in specialised fairs and exhibitions to be held in his country.
Issekeshev also agreed to Dr. Tayyebnia's suggestion to swap oil and wheat at northern Iranian borders and their delivery at Southern parts of the country, expressing Almaty's readiness for the construction of piers, wharves and silos at Chabahar Port.
The Iranian Finance Minister, for his part, appreciated the strong determination of President Nazarbayev and President Rouhani to expand ties and referred to the Iranian foreign policy as being based on developing closer ties with the neighbouring countries.
Tayyebnia also highlighted his country's good record and experience in the establishment of industrial zones and business centres and offered cooperation with his partner in this particular area.
The Iranian Economy Minister is on a visit to Almaty to take part in the ECO Ministerial Meeting and the 40th anniversary of the Islamic Development Bank Group (IDB).
January 28 2014, 16:25