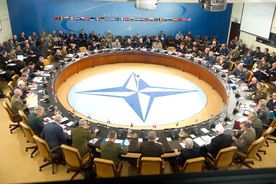 NATO Militray Committee meting in Brussels, January 18-19, 2014The first deputy Defence Minister of Kazakhstan, Chief of the General Staff of the Armed Forces, Colonel General Saken Zhasuzakov participated in the annual NATO Military Committee meeting held in Brussels on Jan 18-19, reads the press release of nato.int.
Chiefs of Defence (CHODs) from sixty-seven NATO member and Partner countries have concluded two days of meetings at NATO Headquarters. Chaired by General Knud Bartels, Chairman of the Military Committee (CMC), NATO's highest-level military officers gathered in Brussels to discuss key security issues, in anticipation of the Defence Ministerial on 2-3 February 2012 and in light of the Chicago Summit in May. Discussions focused on Partnerships, Smart Defence and NATO operations in Afghanistan and Kosovo.
"Kazakhstan attaches great importance to cooperation with the NATO that is an important part of our multi-vector policy and contributes to the national and regional security," Saken Zhasuzakov stated at the meeting with General Knud Bartels, the Chairman of the Military Committee.
The Kazakh delegation also held bilateral talks with colleagues from Turkey and the UK.
January 23 2014, 12:47