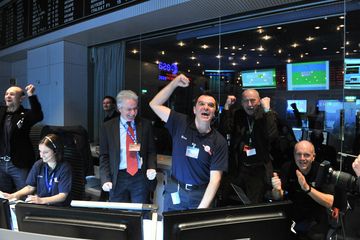 Rosetta mission scientists cheer as the comet-chasing probe's first signal after awaking from a 2.5-year sleep is received at the European Space Agency's Space Operations Center in Darmstadt, Germany on Jan. 20, 2014. Credit: ESAA European probe awoke from a deep sleep Monday (Jan. 20) to gear up for an unprecedented comet rendezvous and landing this year that will cap a 10-year voyage across the solar system, space.com reports.
After two and a half years in hibernation, the European Space Agency's Rosetta spacecraft emerged from its slumber while cruising nearly 418 million miles (673 million kilometers) from the sun. The wakeup call, which was due to begin at 5 a.m. EST (1000 GMT), took hours as Rosetta switched on heaters to warm itself after its long night in the cold depths of space.
"We made it!" Andrea Accomazzo, Rosetta's spacecraft operations manager, shouted in exultation in a webcast. "We can definitely see a signal from Rosetta!"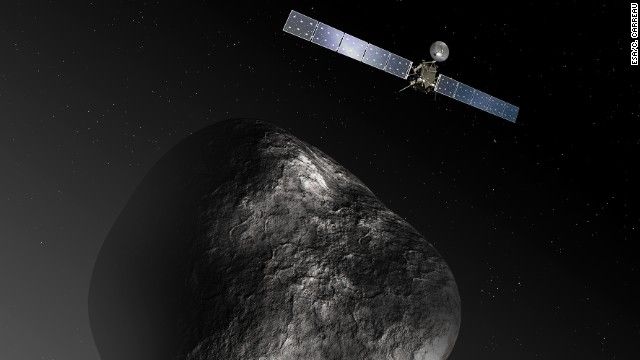 On January 20, Rosetta will wake up, fire its engine and chase after comet 67P/Churyumov Gerasimenko as it hurtles by. This drawing shows how Rosetta will orbit the comet.

January 21 2014, 17:41