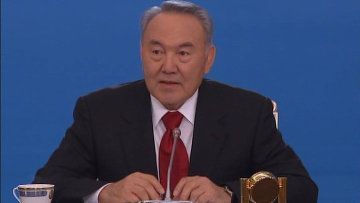 MANGILIK YEL (ETERNAL NATION) DECLARED NATIONAL IDEA OF KAZAKHSTAN
Kazakh President Nursultan Nazarbayev has instructed today the Presidential Administration, Government, People's Assembly of Kazakhstan jointly with the nationwide Kazakhstan 2050 movement to issue the Mangilik Yel (Eternal Nation) patriotic document.
The Head of State declared the Mangilik Yel the national idea of Kazakhstan. "Kazakhstan sets high goals today aimed at the people's welfare gain. That's why I urge all political parties, public alliances and all Kazakhstanis to work together to achieve the main target, the Strategy 2050," the Head of State stressed.
AKTOBE ONE OF THE MOST PROMISING CITIES IN KAZAKHSTAN: PRESIDENT
Aktobe city was mentioned by President Nazarbayev as one of the four most promising cities in Kazakhstan.
In his annual State-of-the-Nation Address, the Head of State said Aktobe city has a bright future in terms of socioeconomic development.
Currently, industrial production, SMEs, and commerce are booming in Aktobe. Plus, its geographic position promotes the development of transport and logistics. The population is growing rapidly and has recently exceed the 400.000 mark.
The President also noted the development of infrastructure is of paramount importance for the future of Aktobe city.
PRESIDENT TASKED TO EXTEND KAZAKHSTAN'S LIFESPAN UP TO 80 YEARS1/2

In his State-of-the-Nation Address "Kazakhstan's way -2050: common goal, common interests, common future" Kazakh President Nursultan Nazarbayev has charged to extend Kazakhstan's lifespan up to 80 years.
The President gave today 15 certain tasks to the Government and state authorities for 2014.
PRESIDENT ANNOUNCES 10 SENSATIONAL PROJECTS AHEAD FOR KAZAKHSTAN
The Kazakh President announced 10 large-scale projects that are set to be implemented in the country.
1. Public service transport in Kazakhstan will become more ecologically friendly. New infrastructure will be created for special electric cars to be used across the country.
2. Kazakhstan is slated to build up nuclear power industry and construct nuclear power plants. Demand for cheap nuclear power is believed to grow rapidly in the years to come.

3. Funding for science is to increase up to the level of 3% of GDP.

4. Development of mobile and multimedia, nano- and space technologies, robotics technology, gene engineering, search and discovery of energy of the future is being eyed in Kazakhstan.

5. An effective land market will be created through transparent pricing policy. Croplands will be leased out on condition that investments are attracted and new advanced technologies are introduced in order to increase competitiveness of Kazakshtani agricultural sector.

6. Along with production of natural products, Kazakhstan will commence the development of short-rain genetically modified crops.

7. A new oil refinery will be built in Kazakhstan.

8. Kazakhstan will look into the possibility of introduction of compulsory health insurance. Shared responsibility of the state, the employer and the employee for his/her health is to become the major principle of the nationwide health care system.

9. A new document underpinning the key values of Kazakhstani society - "The Mangilik Yel (Eternal Nation) will be drawn up and adopted in the country.

10. The Cultural Policy Concept is to be mapped out in Kazakhstan.
LAW ENFORCEMENT OFFICERS SHOULD DEMOSTRATE IMPECCABLE BEHAVIOR - NAZARBAYEV
Law enforcement officers endowed with greater powers should make good showing of impeccable behavior and high professionalism, this has been stressed by President Nursultan Nazarbayev in his annual address to the people of Kazakhstan.
10 NEWS THAT MADE KAZAKHSTAN PEOPLE HAPPY
President of Kazakhstan Nursultan Nazarbayev in his State-of-the-Nation Address outlined ten statements encouraging optimism.
1. The GDP per capita will grow by 4.5 times from USD 13 000 to USD 60 000.
2. Healthy lifestyle, human resource and technological development of the country's healthcare sector will increase Kazakhstan's life expectancy up to 80 years.
3. Small business will become a family tradition to be handed from generation to generation.
4. All the barriers hindering agricultural business development, process of cooperation of farming and effective land use will be removed.
5. Farmers will have access to long-term funding and sales markets without any middleman involved.
6. Children aged 3-6 will be fully covered by pre-school education by 2020.
7. The problem of the lack of schools the countrywide will be eliminated in the 3 years to come.
8. Student grants will be increased by 25% since January 1, 2016.
9. A new model of civil servants' reward will be implemented since next July 1.
10. Social security disability benefits and survivors' pension will grow by 25%.
January 17 2014, 16:55