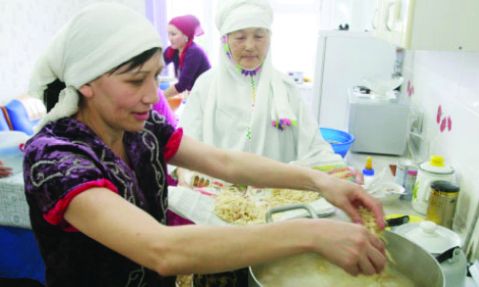 The Club of future daughters-in-law opened in Aktobe. Girls will be taught the nuances of the life in marriage. Zeinep Salmenova, the founder of the club, believes that brides should keep virginity until wedding. She says today's girls are like "napkins" - any man can use them.
"For the last 7 seven years I worked at the secondary school #34 where I taught graduation classes. I am on retirement now and decided to open a club called "Syrlas" (Chat-In).
Nowadays, young girls smoke, drink and lose virginity even at the 11th grade at school. Many girls feel shy to discuss certain issues with their parents. We invite psychologists in our club to have heart-to-heart talk with students, as well as gynecologists to help girls with health problems. We also invite make-up specialists and fashion designers to help girls find their best image.
I believe that a girl should be brought up as a future mother and a wife. I have no objections if she gets a diploma, works and goes up a career ladder. But the reality is a woman doesn't have neither time nor energy for her kids and employs baby-sitters. Baby-sitters, in majority of cases, are not a good solution. They think more about money than a child,"- says Zeinep. "We will teach girls in our club how to find the golden mean, so that they can work and keep fireside comfort at their homes."
"We don't put an age limit for the members: the girls of 16 and above can be our members. We have even mothers who come to our club to learn the rules of upbringing their daughters.
Girls, nowadays, are like napkins
"In nowadays girls are given "freedom" and they start to have sexual relations very early. This is not right. They should marry the loved ones, have children and together with their husbands should learn going through the hurdles of life. But what we have now? Girls drink excessively, then become easy baits for frivolous men. After that comes pregnancy, abortion and as the result they cannot have children," – says indignantly Zeinep.
In our club, a gynecologist will tell them tabout the harmful effect of abortion. I will teach them that a girl should keep her virginity and prepare herself for one man and not to be "a napkin" that any man could "wipe himself up".
In "Syrlasu" club girls are taught how to behave during pregnancy, how to feed a baby and give children proper upbringing and education.
Zeinep also teaches girls to follow the traditions and opens small secrets of family life to them:
"It is important to respect and love your husband's parents as you respect and love your own ones. Very often young wives love their parents, but hate their in-laws. This leads to divorce or we have one more dysfunctional family. A girl should be a good daughters-in-law and I teach them how to become one."
She that has ears to hear, let her hear…
We just opened and we already have 20 girls in our club. We see that the club is very popular,- says Zeinep.
When we asked Zeinep a question whether it is possible to change the behavior of modern girls, since the values in the modern society are different, she answered:
"Kazakhs have a proverb: "Don't ask the one who knows much, ask the one who has a bigger experience". I have a rich life experience and I can share it with the young girls. And I will tell them: she that has ears to hear, let her hear… "
WKT citing Diapazon.kz
October 19 2012, 14:23