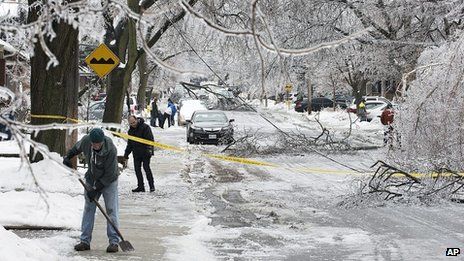 Tree damage during the storm has been described as extensiveA severe ice storm has brought snow and freezing rain to Canada's biggest city, Toronto, and to much of the east of the country, bbc reports.
At least 11 deaths have been blamed on the storm system in Canada and the north-east US, which was also affected.
The storm left hundreds of thousands of people in the region without electricity.
Travellers were stranded at airports in Toronto, Ottawa and Montreal as dozens of flights were cancelled or delayed.
Torontonians are used to snow, but an ice storm is something different - and dangerous. Virtually every tree branch and twig is encased in ice. Many streets are blocked by fallen branches and festooned with yellow safety tape where live power lines have come down.
Trams are running again, now overhead cables have been cleared of ice, but subway services are disrupted. Flights have been delayed, if not cancelled altogether, at one of the busiest times of the year. Pedestrians are walking mainly in the road, avoiding pavements as slippery as skating rinks. On main roads traffic is moving, albeit with delays where traffic lights are not working because of power cuts.
The utility Toronto Hydro says it could be up to 72 hours before electricity is fully restored - well after Christmas Day. The city has opened warming centres for those without power, but many face a cold, dark and disrupted Christmas.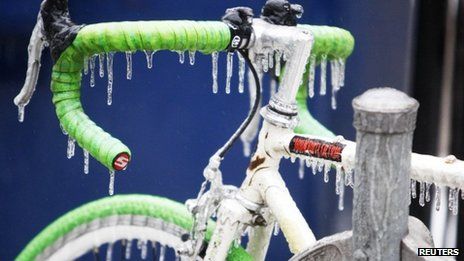 Freezing rain fell over the weekend, causing icicles to formVia Rail warned customers travelling between Toronto and Montreal, Ottawa and New York of delays on Monday.
An estimated 10-30 mm of ice built up on trees and other surfaces in the greater Toronto area during the storm.
Sheets of ice fell from buildings and flew off moving vehicles, Canadian TV channel CBC said.
Toronto Mayor Rob Ford said on Monday that a state of emergency was not being declared at the moment.
"Thoughts are with those without power due to the ice storm," Canadian Prime Minister Stephen Harper tweeted.
The Toronto Hydro power company said that it may take up to 72 hours to get everybody in the city reconnected.
Efforts to restore power continued through the night but around 250,000 Toronto Hydro customers were still without power on Monday morning, according to its website.
Tree damage was "extensive and worse than originally anticipated. It is slowing down the pace of restoration," a statement said.
Another 100,000 were without power in wider Ontario as well as about 50,000 customers in Quebec and about 6,000 more in New Brunswick.
Earlier Toronto Hydro's chief executive officer Anthony Haines said it was "truly a catastrophic ice storm that we have had here, probably one of the worst we've ever had".
"We've got lines down everywhere."
Toronto has opened emergency warm-up centres for people without power.
And officials have warned high winds forecast for Monday could lead to falling branches and more downed power lines.
'Complex and large'
Over the border in the United States, many flights were also cancelled due to the storm, at one of the busiest travel periods of the year.
More than 400,000 people were also left without power in Michigan, New York state and New England.
The US National Weather Service described the storm system as "complex and large", warning that "another round of snow and ice" was expected for New England on Monday as the storm winds down.
At least four people were killed by flooding caused by the storm in Kentucky, while a tornado was reported to have caused extensive damage in Arkansas.
However, the system has also brought record high temperatures to some parts of the east coast of the US, with the temperature in New York's Central Park reaching 21C, with records also being set in several other cities.
December 26 2013, 14:46