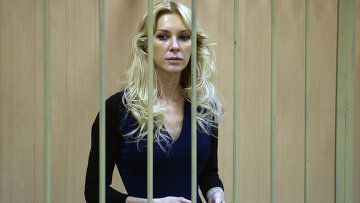 Yelena Tischenko. ©RIA NovostiThe Russian Interior Ministry's Investigative Department has released Yelena Tischenko, a close associate of Kazakh billionaire and former chairman of the board of BTA Bank Mukhtar Ablyazov, Kommersant daily reported Thursday, rapsinews.com reports.
Tischenko is charged with conspiracy to commit large scale fraud and money laundering.
According to the newspaper, an investigator changed the measure of restraint for travel restrictions and proper conduct. Earlier, Moscow's Tverskoy District Court extended until February the detention of Tischenko.
Tischenko was detained on August 31. Investigators believe Tischenko was one of the key leaders of a criminal group allegedly organised by Ablyazov. She was thought to be a close confidant of Ablyazov and coordinated the legalization of stolen property in Russia.
As previously reported, surveillance of Tischenko enabled investigators to track the fugitive banker.
Private investigators employed by BTA Bank followed Tischenko after she appeared in London during one of a court session over the summer. Media reports referred to Tischenko as Ablyazov's attorney. In court she represented International Petroleum Services Group Limited and denied Ablyazov's involvement with the company.
In August, Russia's Prosecutor General's Office requested that France extradite Ablyazov.
Kazakhstan is seeking the extradition of Ablyazov, who fled to the UK after the Kazakh government acquired a stake in BTA in 2009 and the bank came under the control of its sovereign wealth fund Samruk-Kazyna. Ablyazov was granted political asylum in Britain in 2011.
He maintains that the charges against him are politically motivated.
December 26 2013, 12:11