By Zulfiya Bainekeeva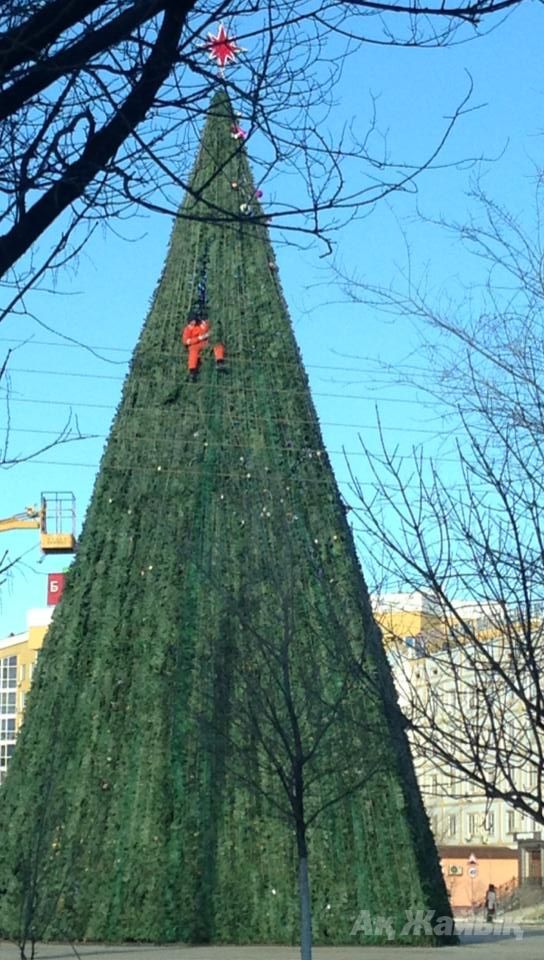 Photo: Rano NigmetovaLast week the peace was breached at the Issatay and Makhambet Square by an unusual behavior of a yong man in orange overall who climbed the New Year tree. He then, to the surprise of others, started to demand labour rights.
19-year-old guy shouted from the top of the tree that he has not received his salary for two months from his employer "Eurasia Kurylys" LLP. This company as per the contract with the city department of culture is decorating the fur-trees in the city.
- I am shocked! – says Serik Khairullin, the director of the company, who was amazed with an unexpected move of the young man. – He is not our employee and I see him for the first time in my life. We have 34 workers in our team and he is not one of them. All my employees were paid on time and I don't have any salary debts.
According to eyewitnesses, the young man seemed drunk. The police squad took the peace-breaker to undergo a sobriety test. By the way, the height of the fur-tree is 18 meters.
The guy is from Kyzyl-Koga district. He came to Atyrau looking for a job. The administrative court interpreted his spontaneous strike as petty hooliganism and he was arrested for 3 day as per article 330 of RoK Admin Code.
It is still unclear whether the young man acted silly or he was indeed the toy in the hands of dishonest employer….
December 23 2013, 10:37