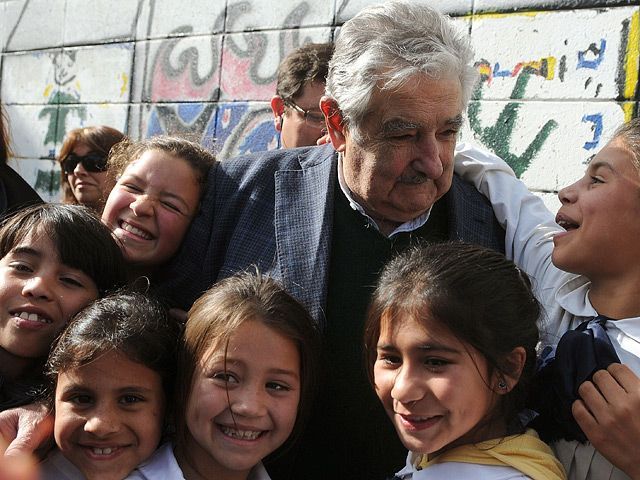 Uruguay's President MujicaPresident of Uruguay Jose Mujica 30-40 going to adopt children and teenagers from his district after he, in his own words, "remove the suit, which he presses", ie leave the presidency. He said this in an interview with local newspaper El observador, allvoices.com reports.
As the news agency EFE, Jose Mujica is head of state since 2010. The next presidential election will be held in Uruguay in autumn 2014, and Mujica successor shall assume office on March 2015.
Peruvian edition of La Republica writes that a few years ago, the president said that he believes his family "poor children, who are willing to work hard." Then he also shared his plans of opening an agricultural school.
Uruguayans their leader called "the poorest president." Most of his salary he gives to charity, and after the expiration of his presidential term thinking to do in floriculture. In the years of dictatorship in Uruguay in the 1970s and 80s Mujica spent nearly 15 years in prison for his involvement in the insurgency.
78-year-old Jose Mujica does not live in the official residence, and in the house of his wife - Senator Lucia Topolanski. In this case, his property, he has only a car. Mujica and 69-year-old Topolanski married in a private ceremony in 2005, their children do not have.
In addition to his modesty, Mujica is also known for his extravagant behavior. One of the biggest stories to his participation occurred in April 2013th when at a press conference, unaware that the microphone is turned on, Mujica said to the head of Argentina Cristina Fernandez de Kirchner and her late husband Nestor Kirchner: "This old woman worse than the one eyed ". In consequence he had to apologize for saying that.
In August this year in Uruguay was adopted his proposed bill to legalize marijuana. At the same time the president explained his proposal that he believes legalization would be beneficial in the fight against crime.
December 17 2013, 20:31