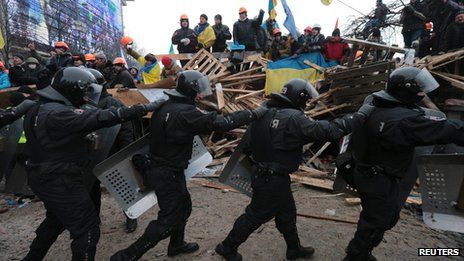 Ukraine's president has vowed "never" to use force "against peaceful protests"The State Department says it is evaluating all options, including possible sanctions against the Ukraine, where government security forces are cracking down against demonstrators, foxnews.com reports.
State Department spokeswoman Jen Psaki would not say at a press briefing Wednesday what types of punitive sanctions the U.S. was considering.
"We're considering policy options," Psaki told reporters. "There obviously hasn't been a decision made. Sanctions are included, but I'm not going to outline more specifics."
In the past, the U.S. has imposed asset freezes and travel bans on senior officials in oppressive governments.
Assistant U.S. Secretary of State Victoria Nuland met with Ukraine President Viktor Yanukovych on Wednesday after visiting the protest camp.
Nuland voiced her opposition to Wednesday's crackdown by riot police in Kiev's central Independence Square, telling Yanukovych that what happened to protesters was "absolutely impermissible in a European democratic state."
"She also made clear that we believe there is still a way forward for Ukraine, that it is still possible to save Ukraine's European future...and that this is a pivotal moment to either meet the aspirations or disappoint the voices of the people," Psaki said.
Western diplomats have increased their pressure on the Ukrainian president to seek a solution to the tensions that have paralyzed the economically troubled nation of 46 million.
Opposition leaders on Wednesday rejected the president's offer of talks, saying they will not sit down with him until he fires his government and releases all arrested demonstrators.
Yanukovych's shelving in November of an agreement with the European Union to deepen economic and political ties has set off weeks of protests. Supporters of the EU pact — including many in Kiev, the capital — want Ukraine to become closer to Western Europe and distance itself from Russia, which ruled or dominated Ukraine for centuries.
Russia has worked hard to derail the accord, issuing a variety of trade threats, and Ukrainians in the east look more favorably on aligning closer with Russia. Yanukovych, who is seeking a bailout loan from the International Monetary Fund to keep Ukraine from going bankrupt, is sensitive to the economic disruption that trade disputes with Russia can cause.
EU foreign policy chief Catherine Ashton was also in Kiev, meeting with both government officials and opposition figures to urge them to hold talks.
The protests are the biggest since Ukraine's pro-democracy Orange Revolution in 2004, which forced the annulment of Yanukovych's presidential victory in a fraud-tainted election and ushered his pro-Western opponents into power.
Yanukovych won back the presidency in the 2010 vote, narrowly defeating Yulia Tymoshenko, a key Orange Revolution figure. Tymoshenko was then imprisoned on charges of abuse of office, a case widely criticized in the West as political revenge.
December 12 2013, 13:00