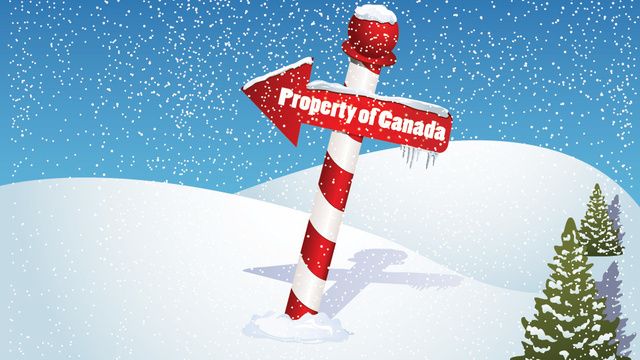 Federal government scientists have been told to do additional work in mapping the continental shelf as part of a UN submission, thestar.com reports.
Canada says it will try to extend its territorial claims in the Arctic all the way to the North Pole, although it hasn't yet fully mapped the area and does not have the scientific evidence to back the claim.
Federal scientists have been told to do additional work following a 10-year exercise in mapping the continental shelf, Foreign Affairs Minister John Baird said Monday.
A formal scientific submission was made to the United Nations Commission on the Limits of the Continental Shelf last week covering territorial claims in the Atlantic, but the government says the material submitted for the Arctic Ocean is only preliminary.
"That's why we've asked our officials and scientists to do additional and necessary work to ensure that a submission for the full extent of the continental shelf in the Arctic includes Canada's claim to the North Pole," said Baird.
Baird did not dispute published reports that Prime Minister Stephen Harper stepped in at the last minute to insist that the North Pole be included in Canada's claim after the scientific assessment put the boundary just south the pole.
The undersea Lomonosov Ridge runs from near Ellesmere Island under the magnetic pole and would be the geological basis for a Canadian territorial claim.
"The reality is the Lomonosov Ridge wasn't fully mapped in the submissions that my department did," Baird said.
"And frankly we think it's important when you do this extensive mapping, we wanted to get the entire Arctic map, including on the ridge."
The U.N. submissions do not lead to a binding decision but lay the groundwork for future country-to-country negotiations over competing territorial claims in the Arctic that could take years to resolve.
Nonetheless, Baird and Environment Minister Leona Aglukkaq painted the scientific submissions, even the incomplete Arctic claim, as being of historic proportions.
"We are defining Canada's last frontier," said Aglukkaq.
"Indeed this is a legacy we will leave for generations of Canadians yet to come," said Baird.
In all, the claims submitted by the Canadian government cover 1.2 million square kilometres of ocean, a size the region of Alberta and Saskatchewan combined.
Baird said international legal recognition "will be vital to the future development of Canada's offshore resources."
December 10 2013, 11:15