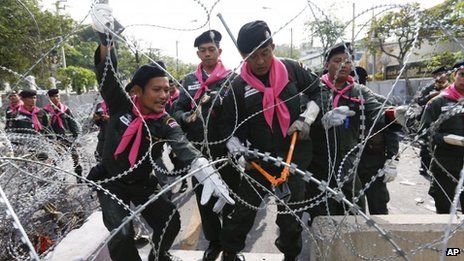 On Tuesday, police cut away wire and opened barricades to avoid further confrontation with anti-government protestersThai police have removed barricades at the police and government headquarters in a bid to defuse tensions with anti-government protesters.
The move followed clashes over the weekend and on Monday, with tear gas and rubber bullets used.
The mood in the capital Bangkok appeared calmer after the police move, which officials said was aimed at avoiding further confrontation.
The Thai prime minister has rejected protesters' demands that she step down.
Yingluck Shinawatra said she was open to negotiations but that calls for the government to be replaced by an appointed council were illegal and unconstitutional.
The protests, which began on 24 November, had been largely peaceful until Saturday, when they became violent.
Over the weekend and on Monday demonstrators tried to break apart police barricades and storm the prime minister's office, Government House, with police using tear gas and water cannon to repel them.
'No confrontation'
Protest leader Suthep Thaugsuban said on Monday that the protesters would "take over the Metropolitan Police Bureau and make it the people's".
On Tuesday morning - in a surprise and possibly shrewd move - the police took down barriers and razor wire outside their building and it was announced that the protesters were welcome inside, the BBC's Jonah Fisher reports from Bangkok.
Protesters are also being allowed through the barricades outside Government House, the scene of violence on Monday.
The move is seen as an attempt to prevent further clashes.
"In every area where there has been confrontation, we have now ordered all police to withdraw. It is government policy to avoid confrontation," police chief Kamronvit Thoopkrachang told Reuters.
"Today, we won't use tear gas, no confrontation, we will let them in if they want," he said.
With the obstacles removed the demonstrators have so far declined to enter any of the buildings, our correspondent says.
Protesters have described the latest developments as a victory for the people.
'Restrained'
On Monday, skirmishes broke out at police barricades, with protesters throwing stones and homemade explosives, and security forces using tear gas and rubber bullets.
Four people have died in clashes since Saturday. It is Thailand's worst political turmoil since the 2010 rallies that ended in violence.
The demonstrators want to replace the government with an unelected "People's Council", alleging Ms Yingluck's government is controlled by her brother, ousted leader Thaksin Shinawatra.
On Monday, a court issued a second warrant for the arrest of protest leader Mr Suthep on charges of insurrection.
The former opposition politician said on Sunday that Ms Yingluck should resign within the next "two days", but she has so far resisted.
"Anything I can do to make people happy, I am willing to do... but as prime minister, what I can do must be under the constitution," Ms Yingluck said in a televised address on Monday.
Ms Yingluck has said that she would not authorise the use of force against protesters.
"I believe that no-one wants to see a repeat of history, where we saw the people suffer and lose their lives,'' she said on Monday.
More than 90 people, mostly civilian protesters, died when thousands of red-shirt Thaksin supporters held a two-month sit-in in the centre of Bangkok in 2010.
Ms Yingluck's brother, Mr Thaksin was ousted in a military coup in 2006 that left the country bitterly divided.
Her government, which has broad support outside the capital, took office after winning elections in 2011.
But the protesters allege that Mr Thaksin runs the government from overseas exile and accuse the current administration of using populist policies that are hurting Thailand's economy to remain in power.
On Monday, the US voiced regret over the deaths in the protests.
"Peaceful protest and freedom of expression are important aspects of democracy," State Department spokeswoman Jen Psaki said. "Violence and seizure of public or private property, however, are not acceptable means of resolving political differences."
Meanwhile, in a statement, representatives of the EU in Thailand said they were saddened by the violence, and believed that "the response of the Thai authorities has so far been restrained and proportionate".
December 3 2013, 11:31