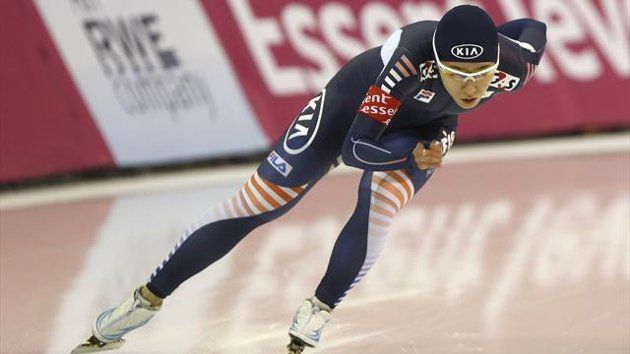 Lee Sang-Hwa (KOR) competes in the women's 500 meter during the Essent ISU speedskating World Cup at Utah Olympic Oval. (Reuters)The world records may have stopped in Europe but Lee Sang-Hwa remains unbeatable over 500m after taking her sixth successive speed skating World Cup win of the season in Astana.
Lee, who has lowered the ladies 500m world record to 36.36 seconds this season, ensured another double in Astana as she won the second race of the meeting by 0.34 ahead of Jenny Wolf.
She clocked 37.32 for victory while in the first of two men's 500m races Russia's Artyom Kuznetsov beat compatriot Dmitry Lobkov by 0.01 while Ronald Mulder was 0.01 further adrift in third.
Meanwhile Brittany Bowe moved into the overall lead in the ladies 1500m with her first victory of the season.
Fellow American Shani Davis was also victorious in Astana. Davis clocked 1:08.66 minutes to claim his third straight victory in the 1000m and build a 140-point advantage over Kjeld Nuis, who didn't compete in the distance.
Although Lee Sang-Hwa was unable to break her own record of 36.36 seconds, Lee remains unbeaten at this distance. She set world records earlier this season in Calgary and Salt Lake City.
December 2 2013, 12:57