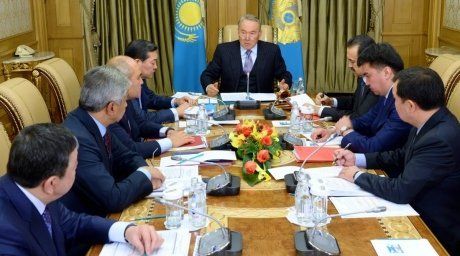 Sitting on Astana development. ©akorda.kzKazakhstan's President Nursultan Nazarbayev believes prices for real estate in Astana, the country's capital city, are fabulously high, Tengrinews reports, citing the President's Press Service.
At a sitting focused on further development of Astana, President dwelt on a report on prices recently submitted to him. According to him, the prices exceed the prime cost twice or even three times.

"For instance, in case of Europe Palace residential area (…) with the prime cost standing at $1000 per square meter, the price is $3500 … as far as Paris Quarters residential area is concerned, with the prime cost standing at $ 1300, the price is $5000 per square meter. These are unjustifiably sky-high prices. The developer only paid a paltry sum in taxes", Head of State said,, providing no detail on the tax period.

President emphasized there should be a package solution: "there is a conspiracy of cement-making facilities that have decided to hike prices. Why isn't the Agency for Competition taking measures to stop that? There should be some margin, but not 5 or 6-fold".

President also added that in the first years of construction of Astana many buildings were tiled with poor-quality materials. In this context he commissioned respective public bodies to pay greater attention to the esthetic side of construction.
November 28 2013, 16:10