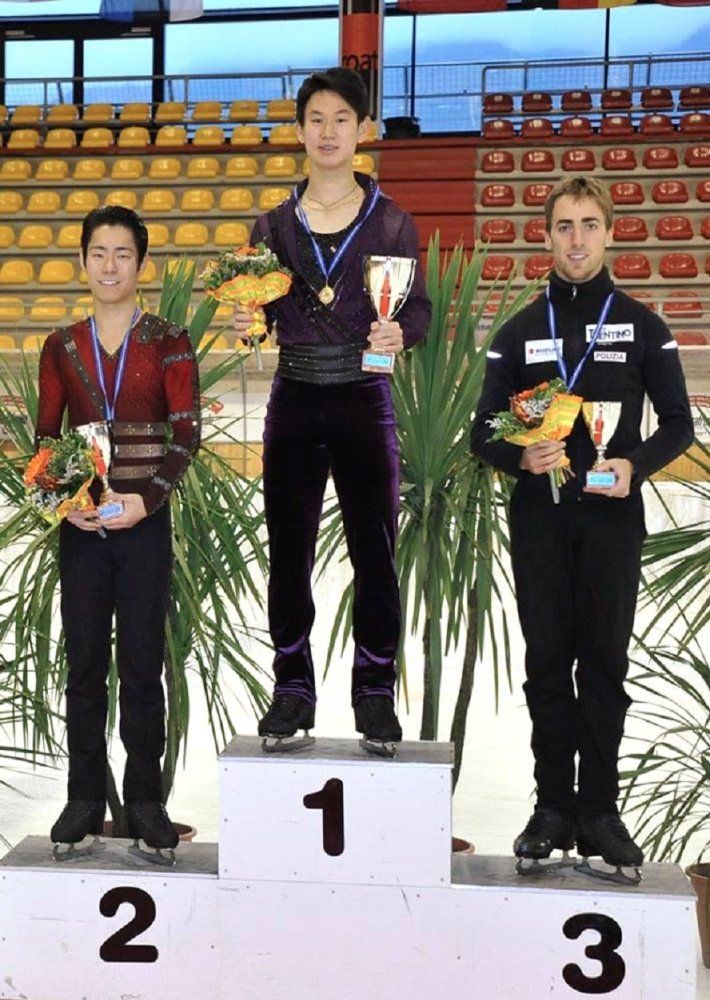 Winners of senior men sectiorn Denis Ten, Daisuke Murakami and Paolo Bacchini. Photo courtesy of press-service of Samruk-KazynaKazakhstan's figure skater Denis Ten - the silver winner of the World Championship - has gained the gold medal at the 16th international tournament Merano Cup in Italy, Tengrinews reports citing the International Skating Union (ISU).
Denis Ten got 231.12 points, improving his result at the Chinese stage of the Grand-Prix by 7 points. This victory gave him 250 points. Japanese figure skater, the current bronze champion of the Universiade, Daisuke Murakami, who gained 222.89 points, won the 2nd place. And the 3rd place went to Paolo Baccini from Italy with his 189.07 points.

Kazakhstan's figure skater Denis Ten participated in the second stage of the Grand-Prix in China in spite of a problem with his back and took the 4th place. At the moment the athlete is preparing for the Ice Challenge tournament that will be held on November 20-23 in Austria.

The Ice Challenge is an annual international figure skating competition organized by the Austrian Figure Skating Association and sanctioned by the International Skating Union. It began in 1971 as the Leo-Scheu-Gedächtnislaufen and was retitled the Ice Challenge in 2008. It is held every autumn in Graz, Austria. Skaters compete in the disciplines of men's singles, ladies' singles, pair skating, and ice dancing.
November 21 2013, 17:40