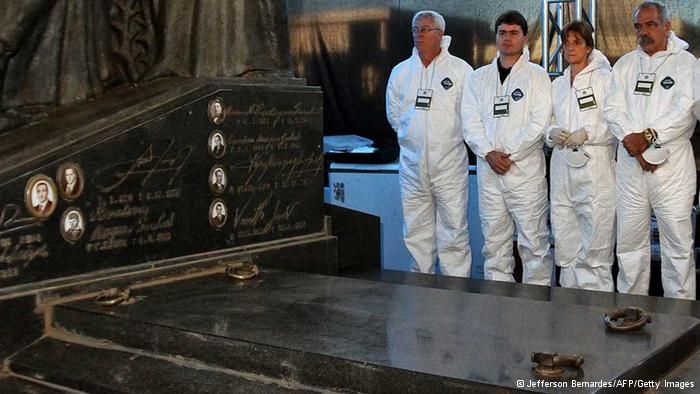 Brazil has exhumed the remains of Joao Goulart to determine if he died by poisoning. Authorities suspect the former president was murdered in exile in Argentina during a military crackdown known as Operation Condor.
Brazilian authorites exhumed Goulart's remains under police guard at a cemetery at Sao Borja, near the border with Argentina, about 600 kilometers (400 miles) from the southern city of Porto Alegre on Thursday.

To avoid the local summer heat, the exhumation took place just after dawn also in the presence of Argentine and Uruguayan experts.

"This is a historic moment," said Brazilian Justice Minister Jose Eduardo Cardozo, who referred to documents suggesting that Goulart could have been murdered.

"Every democratic nation must preserve the truth," Cardozo said.

Goulart was toppled by a 1964 coup that installed a military regime that ruled Brazil, Latin America's biggest country, for 21 years.

He went into exile in Argentina, where he died in the city of Mercedes in December 1976. His body was quickly flown back to Sao Borja, where he was buried beside family members.

His death was attributed to a heart attack, but an autopsy was never performed either in Argentina or in Brazil.

A current Brazilian investigation is seeking to establish whether Goulart died following a change in heart medication.

"He was under surveillance and secret service agents entered his house," Brazil's truth commission recently told the news agency AFP.

"If they entered to steal a letter or documents they could poison some medicine or his food."

'First big step'

In 2012, a Brazilian federal court had authorized Goulart's exhumation.

Former Uruguayan intelligence agent Mario Barreiro Neira told the Folha de S. Paulo newspaper in 2008 that agents poisoned Goulart, who had invested in education, instituted agrarian reform and increased taxes on the wealthy.

Under Operation Condor, the right-wing military dictatorships that ruled much of South America in the 1970s and 1980s secretly cooperated in the torture and disappearances of each others' citizens.
"We are taking the first big step to tell the truth that for many years has been omitted," the Truth Commission's website quoted Goulart's son, Joao Vicente, as saying.

On Thursday, authorities will take Goulart's remains to the capital, Brasilia, to receive full posthumous state honors, with current President Dilma Rousseff expected to attend.

Authorities plan to return Goulart's remains to Sao Borja on December 6.
November 14 2013, 14:13