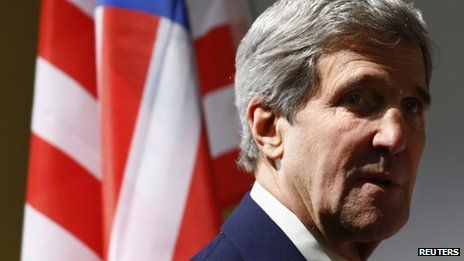 John Kerry said it would take time for America to resolve its differences with Iran
US Secretary of State John Kerry has told the BBC that none of the differences between world powers and Iran over its nuclear programme are big enough to prevent agreement.

He said they came "extremely close" to a deal at the weekend in Geneva.

But he said the rest of the world had to be certain that Iran was not pursuing a nuclear weapons programme.

Three days of negotiations ended without a breakthrough, but diplomats will meet again on 20 November.

"We were very, very close actually, extremely close," Mr Kerry said.
Unity

Speaking to the BBC's State Department correspondent Kim Ghattas, Mr Kerry reaffirmed that it would "take time to work through differences" between the US and Iran.

"We haven't been speaking for 35 years," he said. "We just talked more in 30 hours than we have in those prior 30 years."

Iran says that its nuclear programme is for peaceful purposes only, but world powers suspect it is seeking to develop a nuclear weapons capability.
Some reports said the latest talks failed because France had wanted to place tight restrictions on Iran's heavy-water plant being built in Arak.

However, US diplomats have said the Iranian government's insistence on formal recognition of its "right" to enrich uranium had been the major obstacle.

Mr Kerry said it was critical to be certain that Iran does not have a nuclear weapons programme, and that negotiations about enrichment were ongoing.

"They have to see that there is a standard by which they might be able to do something - provided they meet certain standards in order to do it," he said.

Iran backed out of a deal on the last day of talks, Mr Kerry added.

"We had a unity on Saturday in a proposal put in front of the Iranians... but they felt they had to go back."
Representatives from Iran and the P5+1 - the US, UK, France, Russia and China plus Germany - will meet again in Geneva later this month to resume discussions.

Meanwhile Iran has reached an agreement with the UN nuclear watchdog, the International Atomic Energy Agency (IAEA), over its nuclear programme. The deal opens the way for UN inspectors to gain better access to two key nuclear sites in Iran.

Experts say progress between Iran and the IAEA is a vital parallel track to the talks between Iran and the major powers.
November 12 2013, 14:51