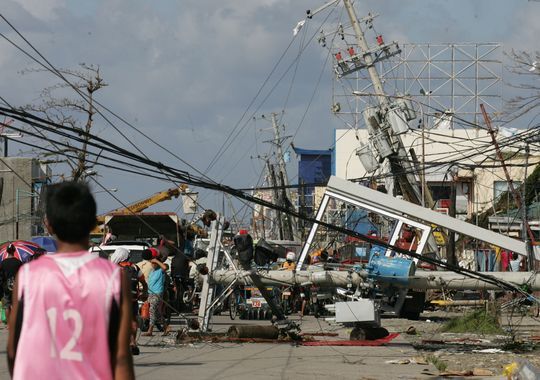 Typhoon-ravaged Philippine islands faced a huge relief effort Monday as bodies lay in the streets and survivors pleaded for food, water and medicine.

Police guarded stores to prevent people from taking TVs and treadmills in Tacloban, the worst-hit city.

Philippines officials said that Friday's typhoon may have killed 10,000 or more people but with the slow pace of recovery the official death toll remained well below that.

A weakened Typhon Haiyan made it way across the border from northern Vietnam into China's Guanxi province late Monday morning with sustained winds of 75 mph, the equivalent of a Category One hurricane. While the system produced heavy rainfall of up to 12 inches in some areas and strong winds, damage was relatively limited.

The Philippine military confirmed nearly 1,000 dead but broken communications and transportation links meant that no one was able to assess damage in many villages in need of food, water and medical help.

Tacloban resembled a garbage dump from the air and only by a few concrete buildings that remained standing.
"This area has been totally ravaged," said Sebastien Sujobert, head of the International Committee of the Red Cross in Tacloban. "Many lives were lost, a huge number of people are missing, and basic services such as drinking water and electricity have been cut off," he said.

A weakened but still powerful Haiyan was churning through the South China Sea and made landfall in northern Vietnam, which evacuated tens of thousands of people.

At the White House, President Obama said he and his wife Michelle said they are "deeply saddened'' by the death and damage in the Philippines and said the United States is assisting relief and recovery efforts. He praised the country's people for "incredible resiliency.''
November 12 2013, 10:01