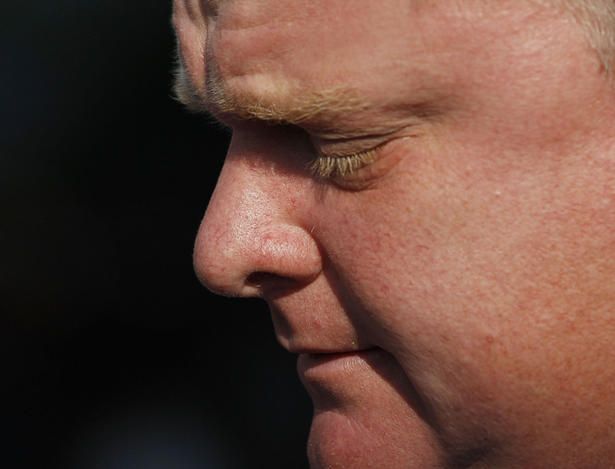 Mayor of Toronto Rob FordCoun. Denzil Minnan-Wong says a consensus is emerging that Mayor Rob Ford must take an immediate leave of absence and council should work to "show him the door" if he doesn't take their advice, cbc.ca reports.
"It seems to me that there is a consensus that the mayor needs to take a leave of absence, even his closest allies are advising him of that," Minnan-Wong said Thursday. "He doesn't seem to be listening."
Ford shocked the city after admitting this week that he had smoked crack cocaine since being elected mayor three years ago. He had faced questions about his drug use for months after reports emerged that someone had been shopping a video that appeared to show him smoking a crack pipe.
The mayor long denied the existence of the video, though police recently revealed they had obtained a video that was consistent with what the media had reported. Ford says he now wants that video released.
Minnan-Wong is warning that if Ford doesn't heed the calls to take a leave following his drug use admission, the councillor will amend a forthcoming motion that would seek to have the province step in and force the mayor out.
"I will be amending my motion such that if the mayor decides not to take a leave of absence, that I will be requesting council to petition the province to have him removed from office," he said.
Asked how that would work, Minnan-Wong said the province would have to introduce legislation to make it happen.
"We have told him that he needs to find the exit. He doesn't seem to be listening," Minnan-Wong said.
"So if he can't find the exit, I think we have to show him the door."
But the approach Minnan-Wong is advocating was not welcomed by Deputy Mayor Norm Kelly, who told CBC News that he doesn't believe council should be taking its problems to the province.
"We have the ability to look after ourselves, one way or the other. So I'll be damned if I'll run to the province on this matter," Kelly said Thursday morning.
At Queen's Park, Linda Jeffrey, the provincial affairs minister, said the government has no plans to step in and change the law so that Ford can be forced out.
"This is extreme, certainly, from a public attention perspective," Jeffrey said.
"Obviously, we're watching what's happening in the City of Toronto."
Also Thursday, Kelly also suggested that Minnan-Wong's adjusted motion "feels more like a ploy of someone who wants to be a candidate and run against the mayor in the next election."
Minnan-Wong made his comments on Thursday before the Toronto Star posted a video on its website of Ford talking erratically while pacing and swearing. The context of the video — which was purchased by the Star — is unclear. Ford spoke about the video shortly after it was posted, but would only say that he was "extremely inebriated" when it was shot.
He also said the video is "embarrassing."
Ford has said he intends to run in the next election, which he predicts will be "a bloodbath."
So far, the only councillor to say they will take on Ford in next year's mayoral race is Coun. Karen Stintz, the Toronto Transit Commission chair.
Ford made his crack-cocaine admission on Tuesday and later held a second media availability that day, declaring his intention to carry on as mayor. Since then, he has faced immense pressure to take a leave, including from some of his closest allies.
Since taking on the job as mayor three years ago, Ford has constantly made headlines for his work at city hall and his life outside of it.
The 44-year-old Ford has survived a conflict of interest challenge, as well as a defamation lawsuit that was dismissed in court, during his term as mayor.
November 8 2013, 11:24