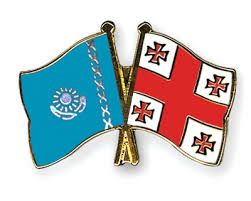 Georgian President Georgiy Margvelashvili has met with the Ambassador of Kazakhstan Yermukhamet Yertysbayev, kazinform reports.
The sides discussed bilateral economic and trade relations. As stated by the Ambassador of Kazakhstan, Georgia is becoming more close to European standards.
"I congratulate the people of Georgia with the democratic conduct of the presidential elections. Our President Nursultan Nazarbayev was one of the first to congratulate Georgiy Margvelashvili on his victory in elections.International organizations have recognized the democratic elections", said Yertysbayev.

Georgiy Margvelashvili in turn noted that it is important for Georgia to develop in the European family.
November 5 2013, 10:57