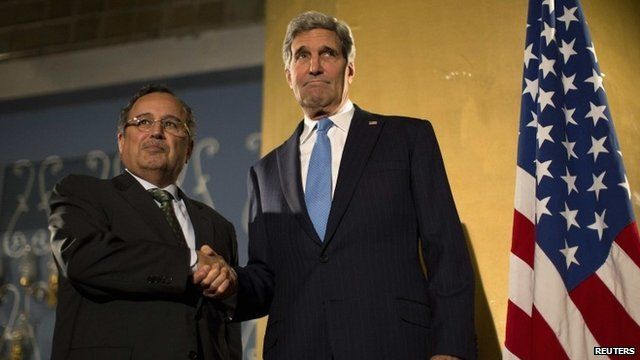 John Kerry: "The future... will be defined by the combination of stability and economic growth" US Secretary of State John Kerry has called for an end to all violence in Egypt and urged moves to full democracy on his first visit to the country since President Mohammed Morsi was ousted, bbc.com reports.
"History has demonstrated that democracies are more stable, viable and prosperous than any alternative," he told a news conference.
"With stability comes tourism and investment, and with both come jobs."
He said the US was committed to working with Egypt's military-backed rulers.
Mr Kerry came to Cairo to try to put the relationship with America's ally back on track. Both he and the Egyptian interim foreign minister tried to emphasize the positive at a difficult moment in the relationship.
This is Mr Kerry's first visit since the removal of President Morsi. Much has changed- the US has suspended delivery of big ticket items in its military aid to Egypt. Anti-American resentment is an at all time high with people on both sides of the political divide angry with the US.
And for the first time in the history of the US-Egyptian alliance, the visit of the Secretary of State was not disclosed until his arrival because of security concerns.
Other elements remain the same. Mr Kerry called for stability and democracy, a call often repeated in the past with variations. But whether under Mubarak, Morsi or Mansour, the US has limited leverage and influence.
Mr Kerry's visit to Cairo was not disclosed by US officials until he landed. It is the first time a US secretary of state has travelled to Egypt on a visit that is unannounced for security reasons.
This is a sign of US concerns about continued instability in the country, but it is also a reaction to the high level of anti-American feeling in Egypt, our correspondent says.
On his six-hour stop Mr Kerry was meeting the interim leaders that assumed control following Mr Morsi's removal in July - President Adly Mahmud Mansour, Prime Minister Hazem el-Beblawi, Foreign Minister Nabil Fahmy and army chief Gen Abdel Fattah al-Sisi.
It is the first stage of a nine-day tour that will take in Middle Eastern and North African countries, as well as Poland.
Mr Kerry said Egypt's fortunes, and its bilateral relations, depended on its democratic transition.
He added that the US was "committed to work with" the interim government.
His Egyptian counterpart Nabil Fahmy said Kerry's comments and the "roadmap" Gen Sisi laid out following the military coup - which sets out constitutional reform and elections by spring 2014 - indicate that "we are all pursuing a resumption of normal relations".
Mr Kerry was also reported to be meeting, behind closed doors, members of Egyptian civil society alarmed by a crackdown in which hundreds of people have died.
Last month the US froze a large portion of the $1.3bn (£810m) in aid it sends to Egypt, prompting condemnation from Cairo.
On Sunday, Mr Kerry insisted that was merely a "reflection of US law" and said assistance that went directly to the Egyptian people had been maintained.
November 3 2013, 21:36