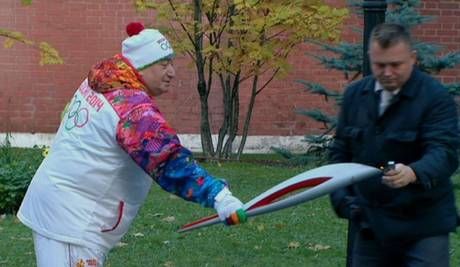 In this frame grab provided by APTN, a security officer lights an Olympic torch for former swimming champion Savarsh Karapetyan after the flame was blown out
In a show of great pomp and ceremony, Russian President Vladimir Putin lit the Olympic torch in Moscow's Red Square yesterday ahead of its four-month relay to Sochi for the Winter Games.

Russia has followed in the traditional effort of bringing in the flame from Greece on a specially-chartered flight, transferring it to a grand cauldron and then using that to light the torch ahead of its long journey.

But when the flame was inevitably blown out, instead of going to the trouble of using a back-up also lit from the "mother flame" (as happened frequently in the build-up to London 2012), a quick-thinking security guard just jumped in to help – with his cigarette lighter.

No longer strictly-speaking carrying the Olympic flame, torch bearer and former champion swimmer Shavarsh Karapetyan nonetheless soldiered on.

The hiccup occurred when Mr Karapetyan ran through a long passage leading into the Kremlin, which seemed to form a wind tunnel and extinguish the flame.

A man standing alongside the route, reported by the Associated Press to most likely be a member of Mr Putin's security service, offered his lighter and helped bring the torch back to life.

Mr Karapetyan, 60, was a hero for the Soviet Union and is said to have once saved 20 passengers from a bus which fell into a 30ft-deep reservoir, using his legs to break a window and then pulling people to safety.

He was understandably not to be discouraged by such a small glitch yesterday, which Dmitry Chernyshenko, president of the Sochi organizing committee, said on Twitter was caused by an issue with a valve that had not been opened fully.

The torch relay will stay in Moscow for the next three days, with hundreds of athletes, cultural figures and others, including Prince Albert II of Monaco, set to take part.

One of the silver and red torches, unlit, will even be carried into space in November for a brief visit to the International Space Station, and this same torch will be used to light the Olympic flame at its final destination in Sochi.

Vladimir Putin has said the Games will "show the world Russia as she is and as we love her". With the build-up already marred by fears of corruption and censorship, questions about the legitimacy of its travelling Olympic flame will be the least of Russia's worries.
October 7 2013, 15:55