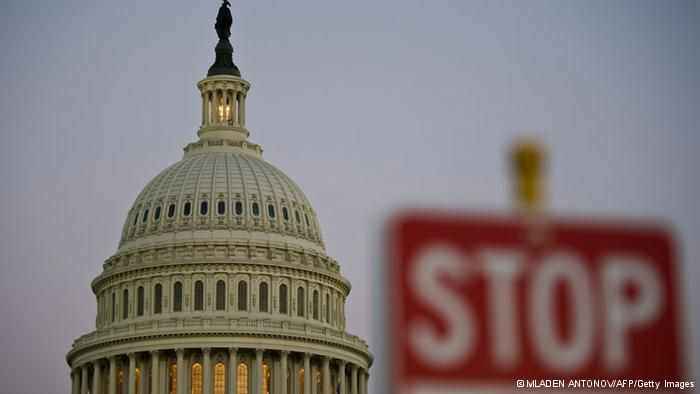 Nonessential US government programs and services have been stopped; Congress is set to convene for its first day's work since missing a budget deadline. The Secretary of Defense has criticized the partisan deadlock.
Secretary of Defense Chuck Hagel said on his visit to South Korea on Tuesday that the partial shutdown of the US federal government raised "a dark cloud of uncertainty" over US military missions abroad and could damage credibility among allies. Hagel said that allowing domestic policy differences to trigger a government shutdown was "completely irresponsible" on the part of Congress.

"This dark cloud of uncertainty… affects our missions around the world. It affects our allies questioning our commitment," Hagel said in Seoul.

"It does cast a very significant pall over America's credibility with our allies when this kind of thing happens. It's nonsensical … It's completely irresponsible."

On Monday evening, shortly before the midnight deadline passed, President Barack Obama recorded a message to the military, saying the rival parties in the US had reached a deal to continue paying 1.4 million military employees around the world.

Nevertheless, Hagel said that roughly half of the Department of Defense's 800,000 civilian staff would be told to go home when they reported to work on Tuesday.

800,000 staffers affected

Civilian defense staff deemed nonessential would be sent home, as was the case for other federal government services and programs not seen as imperative. Regulatory agencies, federal museums, national parks and NASA were among the institutions facing closure; exemptions were granted to civil servants including air-traffic controllers, most food inspectors and Border Patrol agents.

A half day's work was scheduled to allow staff to perform shutdown-related tasks like changing email greetings and closing down Internet websites for affected agencies. In total, estimates suggested roughly 800,000 goverment staff would be hit by the shutdown.
British Prime Minister David Cameron told BBC radio on Tuesday that it was "a risk to the world economy if the United States can't properly sort out its spending plans and its deficit reduction plans."

Healthcare program starts as governance stops

Disagreement on landmark healthcare reform had led to the breakdown of 2014 budget talks between the Republican-dominated House of Representatives and the Democrat-controlled upper house, the Senate.

The opposition Republicans favored a budget that would only allow the US to raise its $16.7-trillion (12.3-trillion-euro) borrowing limit in return for suspending the introduction of the Affordable Care Act, often called Obamacare, by one year. Obama and Democrat Senators rejected this condition, meaning that online enrollment to the program opened on Tuesday as scheduled.

Obama accused Republicans of holding US spending hostage in a bid to topple a program they dislike.

"You don't get to extract a ransom for doing your job, for doing what you're supposed to be doing anyway, or just because there's a law you don't like," Obama said in a televised address shortly before the shutdown came into force.

Impact 'devastating'

Republican House Speaker John Boehner said that while he didn't want a government shutdown, the health care law "is having a devastating impact. … Something has to be done."

The director of the White House Office of Management and Budget confirmed the shutdown in a memo, concluding that: "Agencies should now execute plans for an orderly shutdown due to the absence of appropriations."

Both houses of Congress were set to reconvene in Washington on Tuesday for the first time since the shutdown began. The House of Representatives passed another bill including the suspension of the new healthcare program shortly after midnight Tuesday, with Democrat Senate leader Harry Reid saying his chamber's first order of business would be to reject this proposal. Two such budgets were struck by the Senate on Monday in the hours leading up to the deadline.

It was not immediately clear how long the deadlock would last, but many analysts predicted a comparatively swift compromise, estimating that the Democrats held the better cards. Veteran Republican Senator John McCain said "we can't win."
October 1 2013, 17:08