By Zulfiya Bainekeyeva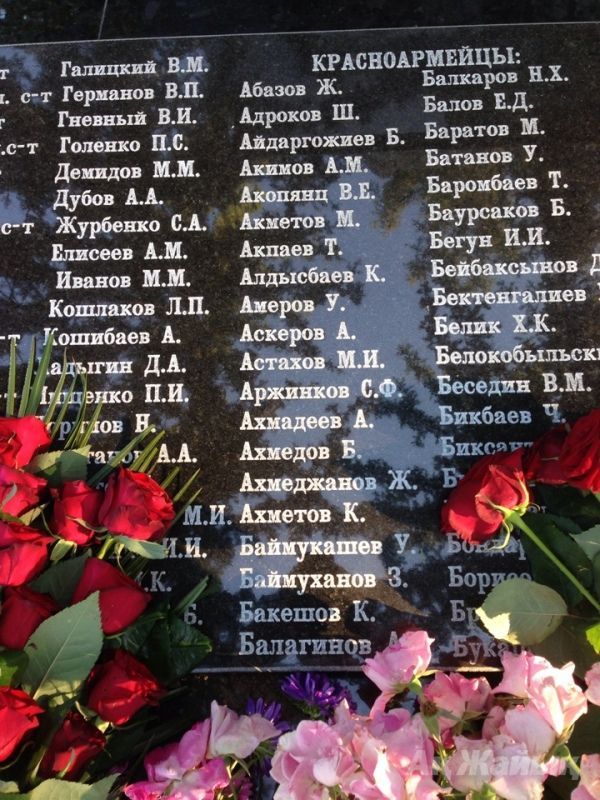 One hundred Kazakh soldiers buried in common graves of the Second World War near Kharkov have eventually been identified. After 70 years, descendants found their 'missing in action' grandfathers.
Today the names of those fallen at war have been officially documented thanks to people like Adilgali Baimyrza from Atyrau and Makka Karazhanova, the head of Kazakh diaspora in Kharkov, Ukraine.

It all started with Baimyrza's dream to find the place his grandfather laid resting, and the trace led him to the village of Bolshaya Babka, Kharkov oblast.
During the search, he discovered a great many details about other WWII veterans from Kazakhstan, who took part in the liberation of these places as part of 81st Rifle Division of the Red Army.
It turned out that most of the Kazakhs buried in the giant mass grave had been recruited from Novobogatinski District of Guriev oblast, now Issatai District, Atyrau oblast, but many names on the big gravestone were misspelled, some of them completely unrecognizable.

For this very reason, Ukrainian authorities could file no details nor engrave names of these people on gravestones at memorials and burial sites.
Kazakh diaspora in Kharkov had difficult times seeking Kazakh MIAs, even contacted military comissariats in Kazakhstan, but had no success until they met Baimyrza.
Diligently corrected 100 misspelt names of soldiers killed in battles for Bolshaya Babka, Perkovka and Khotomlya villages, he requested Ak Zhaik to publish the revised list so relatives were able to identify them.
In such a way could a number of relatives travel to Ukraine and pay tribute to ancestors.
Cavalryman Kassymbai Bakeshov was one of the missing soldiers of Bolshaya Babka. Upon learning that he was resting in Bolshaya Babka and the memorial had heavily wrecked over time, his grandson Bakhytbergen Kassymbayev decided to help Ukrainians restore it.
Almost entire family of the cavalryman went to Ukraine to attend the opening of a new memorial where also came local villagers, authorities, Ukrainian MPs and search volunteers.
In turn, Kassymbayevs organized a real Kazakh table feast with baursaks (Kazakh donuts) and beshparmak after the ceremony.



September 20 2013, 16:01