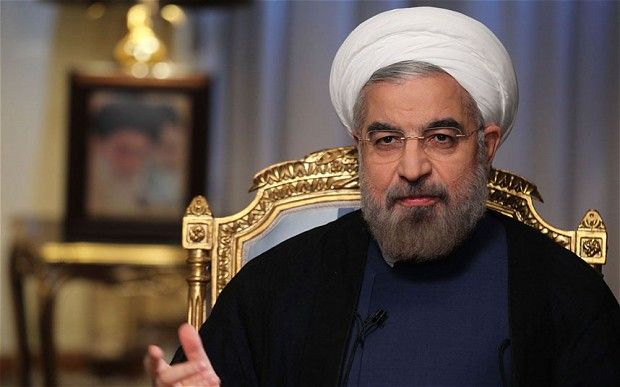 "We must join hands to constructively work toward national dialogue, whether in Syria or Bahrain. We must create an atmosphere where peoples of the region can decide their own fates," Rouhani wrote in a column in the Washington Post.

In his latest bid since becoming president in August to reach out to the international community, Rouhani said he wanted to pursue a policy of "constructive engagement."

Rouhani, who has asked to meet with French President Francois Hollande on the sidelines of the UN General Assembly new week, said his counterparts should "seize the opportunity presented" by his election.

"I urge them to make the most of the mandate for prudent engagement that my people have given me and to respond genuinely to my government's efforts to engage in constructive dialogue."

The new Iranian president's offer is likely to be eyed warily in Washington, where the Obama administration has repeatedly accused Iran of helping to prop up the Syrian regime in the brutal civil war by providing weapons, manpower and money.
Rouhani insisted that "a constructive approach to diplomacy doesn't mean relinquishing one's rights.

"It means engaging with one's counterparts, on the basis of equal footing and mutual respect, to address shared concerns and achieve shared objectives," he wrote.

"A zero-sum, Cold War mentality leads to everyone's loss," he said, adding that in many places "unilateralism often continues to overshadow constructive approaches."

"The unilateral approach, which glorifies brute force and breeds violence, is clearly incapable of solving issues we all face, such as terrorism and extremism," insisted Rouhani, a moderate on Iran's political scene.

"My approach to foreign policy seeks to resolve these issues by addressing their underlying causes. We must work together to end the unhealthy rivalries and interferences that fuel violence and drive us apart."

The Iranian president said he believed "at their core, the vicious battles in Iraq, Afghanistan and Syria are over the nature of those countries' identities and their consequent roles in our region and the world."

This was also true of Tehran's pursuit of what he called its peaceful nuclear program, which was as much about "who Iranians are as a nation" as about diversifying energy resources.

"To move beyond impasses, whether in relation to Syria, my country's nuclear program or its relations with the United States, we need to aim higher," Rouhani wrote.

"Rather than focusing on how to prevent things from getting worse, we need to think – and talk – about how to make things better."
September 20 2013, 14:22