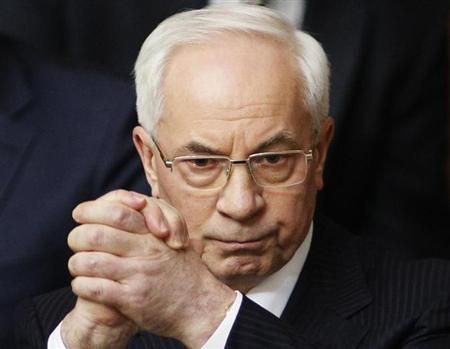 Ukrainian PM Mykola Azarov
Ukraine formally gave the go-ahead on Wednesday for landmark trade deals to be signed with the European Union, disregarding pressure from Moscow for Kiev to halt its westward course.
Prime Minister Mykola Azarov said the agreements, that should be signed at a November summit in Lithuania, raised the prospect of "a European quality of life" for the ex-Soviet republic. But he kept silent over the imprisonment of his predecessor, Yulia Tymoshenko, whose release European envoys have been trying to secure in the run-up to the Vilnius meeting.

The 28-member EU, while pursuing the agreements with Ukraine including participation in a free trade zone, has condemned her trial for abuse-of-office and seven-year jail sentence as politically motivated, and her continued confinement still threatens prospects of a signing in Vilnius.

"We believe we must make every effort for Tymoshenko to be freed before the Vilnius summit," Iryna Gerashchenko, a deputy for the opposition party UDAR, told Interfax-Ukraine.

"Even though the signing is important to the EU and Ukraine, the EU will never be able to close its eyes to the violation of fundamental values such as human rights, including the right of defense in a court and the right to justice," she said.

Azarov, taking a lead from President Viktor Yanukovich, said Kiev would meet the criteria for democratic progress laid down by the EU as pre-conditions for signing in Vilnius.

Kiev has come under pressure from Russia, its former colonial master and still biggest single trading partner, which wants to entice it instead into a Russia-led Customs Union.

KREMLIN PRESSURE

Russia fears a flood of competitive goods on the Russian market if Ukraine joins an EU free trade zone. It has warned Kiev of retaliatory action and said it will forfeit special partner status if it signs up with the EU.

The pressure has injected new tension into Moscow's relationship with Ukraine, which has pleaded unsuccessfully for cheaper Russian gas to help its hard-pressed economy.

Azarov said on Wednesday: "Our state is changing radically - and that brings relief to some and concern to others ..."

He said the EU agreements contained nothing that could harm prospects for deepening cooperation with Russia and its allies.

He spelled out immediate trade advantages for Ukraine - whose economy is dominated by exports such as steel, chemicals and agricultural produce - saying there would be softer duties on Ukrainian exports almost immediately.

The pressure from Moscow forms part of a broader drive by Russia to deter former Soviet allies from edging out of its orbit and moving their economy and future trade towards the EU.

Moldova, a small neighbor of Ukraine which hopes to initial similar agreements with the EU, has been warned of retaliatory action, including possible cuts in Russian gas deliveries. Russia banned Moldovan wines and spirits last week, saying they contained impurities.

While agreements should be signed or initialed with Ukraine, Moldova and Georgia in Vilnius, three other ex-Soviet republics included in the EU's Eastern Partnership program - Armenia, Azerbaijan and Belarus - are unlikely to follow suit.

Ukraine, a vast country with a population of 45 million and psychologically tied most closely to Russia by history and shared culture, is the sorest point of contention.

While the EU is eager to draw Ukraine closer, it has said it will only move forward if Kiev takes steps to release Tymoshenko from detention or at least let her travel abroad for medical treatment, an option pushed by Germany.
September 18 2013, 18:12