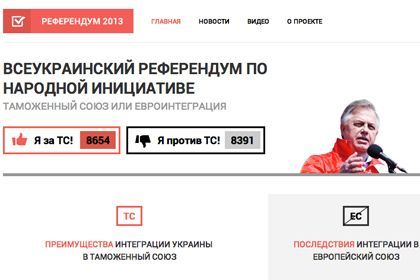 Screenshot, referendum2013.in.ua
Favourers of the Customs Union in Ukraine have created a website to conduct a polling to reveal if Ukrainians wish to join the treaty with Russia, Belarus and Kazakhstan or not, writes lenta.ru.
The project's authors claim that the future of Ukraine's foreign policy - with the Customs Union or the European Union should be put to an all-national vote.
Internet polling, they believe, will "help compatriots orient and express personal opinion".
The website briefs visitors on 'advantages' Ukraine will get if joins the Customs Union and 'consequences' if enters EU.
Worth mentioning, the project is not aimed at collecting a quorum for an official referendum. Guests are only asked about their attitude toward the Customs Union.
By the moment this article was published, 8700 people ticked yes and nearly 8500 chose to say no.

Ukrainian Communist Party is the most active supporter of the country's entering CU.
Recently, communists attempted to arrange a rally to discuss the question with the public.
However, Ukraine's European Party managed to ban the initiative through a court action.
Communists, nonetheless, held a gathering at Spartak Stadium in Kyev, but with a different agenda - on Ukraine's entrance to EuroAsian Economic Community, an economic treaty between Kazakhstan, Russia, Belarus, Kyrgyzstan and Tajikistan.

Country's current administration headed by president Viktor Yanukovich showed no support to the idea of full membership in a customs union with Russia.
Ukrainian authorities tried to negotiate for joining on special conditions, eventually getting the unofficial observer status in the union.
In the near future, Ukraine intends to sign an agreement with EU on association and free trade zone, which will finally close the door between Ukraine and the Customs Union.
The customs union of Russia, Kazahstan and Belarus is effective since 2010. To members it provides a single customs area free of duties and economic limitations, except special measures.
Earlier, Kyrgyzstan, Tajikistan and Armenia had expressed wish to join it.
September 16 2013, 16:43