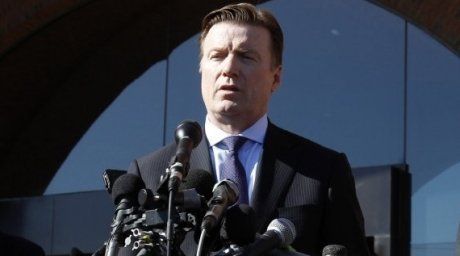 Dias Kadyrbaev's lawyer Robert Stahl. ©Reuters
Dias Kadyrbaev has once again pled not guilty at the Superseding Indictment hearing this Friday. The Arrangement was a formality that had to be observed since the indictment added American Robel Filippos, Tengrinews reports citing Dias Kadyrbayev's lawyer Robert Stahl as saying to deny the media reports saying that Dias was indicted with some new charges.

"There were no new charges filed against Dias or Azamat in the Superseding Indictment. It simply added the count against Robel for allegedly lying to the FBI. Since the indictment added Robel, it was a formality to have another Arraignment where Dias pled not guilty again. Now that Robel has been added, the next court date is October 29," told Tengrinews.

Another student from Kazakhstan involved in the case - Azamat Tazhayakov - will have to go through a similar formality later.

The previous time they pled not guilty was in August, but at that time Robel was not part of the case.

Dias Kadyrbayev and Azamat Tazhayakov - two 19-year-old students from Kazakhstan - are charged with obstructing justice and conspiring to destroy evidence in the Boston bombings case. They allegedly took several things from Dzhokhar Tsarnaev's dormitory after the bombings. They are not suspected of participating in the preparation of the bombings or the bombings themselves. Dzhokhar and his older brother Tamerlan are the main suspects in the bombing case.

The Kazakhstan teenagers who came to the United States to study in a university now face up to 25 years in prison. The maximum term Fillipos can get with his charges is 16 years.

The students from Kazakhstan are now kept in individual cells. They have a right to make call, but are permitted no walks or communication with each other.

According to Robert Stahl Dias has been receiving a lot of letters of support from people around the world and he is grateful for the. The letters give him hope and inspiration that the justice system will work and that he will be found not guilty and return home to his living family.
September 16 2013, 09:51