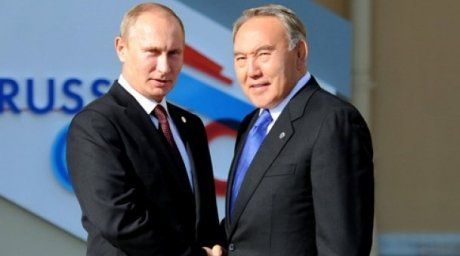 Nursultan Nazarbayev and Vladimir Putin at the G20 summit. Photo courtesy of akorda.kz
When speaking at the G20 summit in Russia's St. Petersburg, Kazakhstan's President Nursultan Nazarbayev voiced some suggestions on how to cope with repercussions of the global financial crisis, according to his website akorda.kz.

"Rampant development of financial structures that had nothing to do with the real sector, the so called soap bubbles, is the major cause of the financial crisis", President said, emphasizing that developed countries almost fail to take into account stance of many emerging nations when taking crucial global decisions. "Besides, (…) I suggest new tools to regulate and control public and corporate borrowings be developed and implemented", he said.

"For the voice of such emerging nations as Kazakhstan to be heard, I initiated the G-GLOBAL project. It is not an alternative to G8 or G20, but rather an additional tool of global dialogue, an additional forum for discussions", he said.

"So far nobody has suggested a global anti-crisis plan that would be acceptable to everyone," President Nazarbayev said December 15, 2011, in a speech celebrating the 20th anniversary of Kazakhstan's independence. "Unfortunately, the G-20 and G-8's global anti-crisis approach has proved ineffective. I suggest expanding the number of countries that are participating in the search for global anti-crisis solutions. I suggest calling this new communication platform G-Global", he said at that time.

When speaking at the G20 summit, President Nazarbayev stressed that regional integration plays a key role in coping with the crisis. He cited the Customs Union of Kazakhstan, Russia and Belarus as a successful example of such integration.

He reminded that Kazakhstan is at the completion stage to enter the WTO. "I am kindly asking all the heads of state in attendance here to support Kazakhstan's accession to the WTO before the end of 2013", he said.
September 6 2013, 12:25