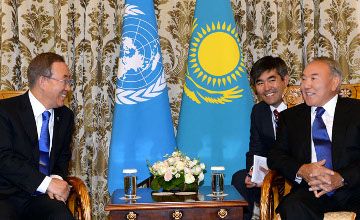 Kazakhstan supports the full participation of the United Nations in the search for solutions to the existing international problems, in particular the issues of war and peace, this has been stated by Nursultan Nazarbayev in St. Petersburg during the bilateral meeting with the UN Secretary General Ban Ki-moon.

The talks were held on the sidelines of "G20" summit.

Nazarbayev stressed effective and productive level of cooperation between Kazakhstan and the United Nations. It was noted that the country had been working closely with the organization and the parties traditionally expressed their support for its initiatives.
The President praised the joint work concerning nuclear disarmament and thanked the Secretary General for the UN's efforts to establish the date of August 29 as the Day against Nuclear Tests.

The President also spoke about the current initiatives of the country in the field of building the effective economic model. "We have joined "Green Economy" program. Our offer called "Green Bridge" has also been supported by the international community. EXPO-2017 will be held under the auspices of "Future energy", said the President of the Republic of Kazakhstan.

It bears to remind that Russia's presidency in "Group of Twenty" started on December 1, 2012. G20 summit is being attended by presidents of 20 countries, 6 leaders of the invited states and heads of 8 major world organizations in the economic sphere.
Kazakhstan was invited to the summit as a representative of the Eurasian Economic Community, the Customs Union and the Commonwealth of Independent States.
September 6 2013, 09:38