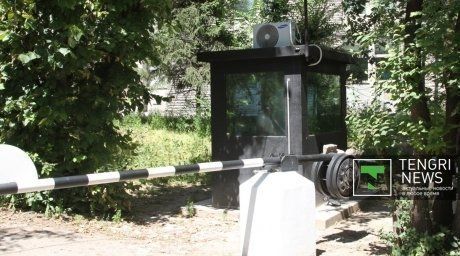 Afghanistan war veterans who passed a letter to the U.S. President Barack Obama requesting to recall the U.S. ambassador from Kazakhstan were invited to meet with the U.S. Consul General in Almaty, Tengrinews.kz reports citing the assistant security attaché of the U.S. General Consulate Yevgeniy Yerokhov.

The Embassy offered to schedule a meeting at any time convenient for the veterans. According to Yerokhov, the U.S. Consul will answer all the questions of the veterans. In particular, he will explain why we installed the American checkpoint near the House of Army in Almaty. "Your today's visit is quite a surprise for us," Yerokhov said. "But why? We sent a letter a month ago," the representative of the veteran organization Murat Abdushukurov replied said. "If you had made an appointment with us you wouldn't have spent an hour here waiting," the assistant attache continued.

Afghanistan war veterans of Kazakhstan visited the U.S. General Consulate in Almaty today to pass a letter to U.S. President Barack Obama asking to recall the ambassador from Kazakhstan, because the U.S. mission's activities incite discord between citizens of the U.S. and Kazakhstan.

They waited for a whole hour before Yerokhin came out to them and picked up the letter. "Just imagine what would happen if a checkpoint like this was installed in the middle of New York and Kazakhstan security personnel would start checking U.S. citizens," one of the veterans said.

The veterans are outraged with the installation of the checkpoint that blocked the only road that leads to the two buildings 2 months ago. One of them (the House of Army) hosts veteran organizations and the other one has offices of the U.S. General Consulate and USAID mission. "Our disabled veterans standing on the land they fought for now have to faces such humiliations. Guards in American uniform bar their way to check them. Americans now set their own rules making the veterans get out of their cars, open their trunks and hoods," chairman of Almaty Coordination Council of Afghanistan War Veteran Organizations Murat Abdushkurov said.

Kazakhstan Foreign Ministry and the Department for Diplomatic Corps Affairs earlier advised the American mission to apply for a permit for the checkpoint to Medeu Regional Administration of Almaty.

Medeu Regional Administration that is in charge of the area where Embassy and its checkpoint are located administration said that the checkpoint was installed without any coordination with the local authorities.

Representatives of the organization that manages the House of Army and Kazakhstan GIS Center believe that the checkpoint and the checks done by the American organizations' personnel obstruct the activities of the House of Army.

The U.S. Embassy insists that the checkpoint was installed legally and in compliance with all the rules. According to the Embassy, the checkpoint serves to enhance security not only of the American Embassy personnel, but also of Kazakhstan citizens.
September 5 2013, 11:09