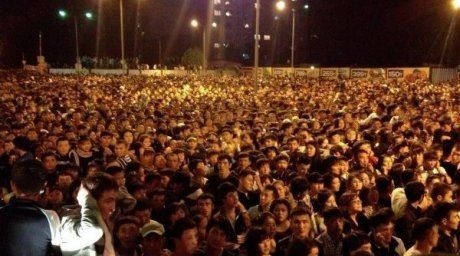 Almaty police has identified the instigators who provoked the fight at the concert in Prime Plaza in Almaty. They turned out to be three minors and three 18-y.o. young men, the press-service of Almaty Interior Department told Tengrinews.kz.

"They were arrested by the Interior Department on September 1 in suspicion of stealing from cars stuck in the traffic jam on Raiymbek street. Their implication in the fight that took place at the territory of Prime Plaza mall was defined during the investigation. They will be charged with plundering and hooliganism," the Department stated.

The Department said that 200 Interior Department's officers were stationed at the concert to maintain public order. Backup arrived 20 minutes after the fighting started. It included special rapid response forces, Arlan special division and the militarymen of the internal troops. The situation was under control at 11:00 p.m.

Earlier Tengrinews.kz English reported that 165 participants of the mass disorders were delivered to police departments early on September 1. The implication in the crimes is being checked. 37 Interior Department's officers received various injuries in the clashes: 28 militarymen and 9 police officers. 7 officers were hospitalized. Several police vehicles and one private car were damaged.

A criminal case on Hooliganism (Article 257 of the Criminal Code) was initiated over the disorders. Another criminal case was initiated against the administration of Prime Plaza mall over Uncontentious Attitude to Duties. The Director of Prime-Plaza mall is under a pledge not to leave Almaty. The investigation is underway.

Late on August 31 around 2000 people gathered near Prime Plaza mall for a concert of a famous Kazakh pop singer Kairat Nurtas. The concert did not start on time and then the singer left the stage without even finishing the first song. The disappointed crowd started breaking through the fencing then raged at the parking lot and the ground floor of the mall shattering windows and crashing the equipment. The mob was using stones and glass bottles.

The damage to the concert equipment alone is estimated at more than $150,000.
September 3 2013, 16:27