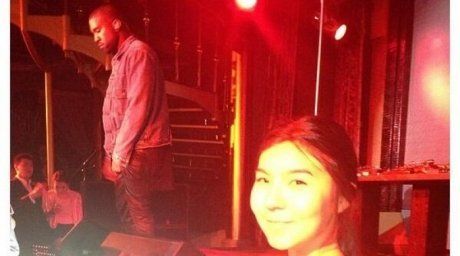 Venera Nazarbayeva, Kazakh president's granddaughter posing before Kanye West
Kanye West kicked off Labor Day Weekend thousands of miles away from the Kardashian compound – in Kazakhstan.

According to TMZ, Kazakhstan president Nursultan Nazarbayev hired Kanye to perform at his grandson's birthday Saturday night, and the grandson of the head of state gets what he wants.

No word on whether six-week-old North West made the 6,500-mile trip to the Almaty at the Hotel Royal Tulip, where TMZ says the party took place.

"The performance set the president of the land of "Borat" back some $3 million," according to the report.
To recall, the wedding ceremony took place August 31, in the grand ballroom of Hotel Royal Tulip, Almaty.
The first part of the celebration was held in accordance with Kazakh traditions and the second - as a family dinner to the tune of Kazakh and foreign music performers.
Among guests were relatives and friends of the presidential family and the couple.
September 2 2013, 09:49