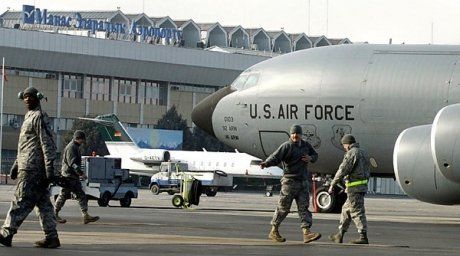 Kazakhstan Foreign Ministry has dismissed the rumors of alleged relocation of the American military air base Manas from Kyrgyzstan to Kazakhstan and does not even see any need to comment them, the Ministry's spokesman Zhanbolat Ussenov told Tengrinews.kz.

"This news is a misinterpretation of the American commander's statement. We are unaware of any talks on transfer of the U.S. military base from Kyrgyzstan to Kazakhstan. In this relation, Kazakhstan Foreign Ministry deems it unnecessary to comment these rumors," Ussenov said.

Earlier the media unveiled the information that the U.S. military command may relocate Manas military air base from Kyrgyzstan to Kazakhstan. In particular, KazTAG reported that the U.S. were allegedly not planning to fully shut down the operations in Central Asia and were looking for a new place to relocate its base to. Kazakhstan's Aktau and Shymkent were among the options allegedly being considered.

The suggestions were allegedly made based on the statement of the Colonel John Millard, who said that "the operations will have to move some place else". However, the commander's statement was removed from the Pentagon's official channel shortly after it was released.
August 27 2013, 17:29