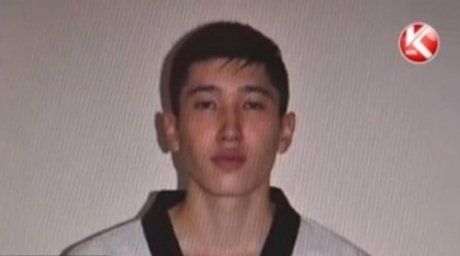 Azamat Tenizbayev. Snapshot of KTK video
Kazakhstan Foreign Ministry is keeping a close eye on the situation with Kazakhstan taekwondo champion accused of sexual harassment in Great Britain, Tengrinews.kz reports citing the Ministry's press-secretary Nurzhan Aitmakhanov.

Azamat Tenizbayev was arrested in Heathrow airport on July 24. Representatives of the Kazakhstan Embassy in Great Britain had a meeting with the sportsman to support him and find out details of the incident. "He did not voice any complaints about his condition during the meeting. The embassy is staying in contact with him," Aitmakhanov said. The Embassy is also working with the lawyer who represents the Kazakhstan sportsman.

The 18.y.o. Kazakhstan sportsman was arrested in London on charges of sexual harassment . The incident happened several days ago when Kazakhstan taekwondo team was coming back from the world championship in Mexico. The team was flying to Kazakhstan via London, where the sportsman was arrested. Tenizbayev went into an argument with a young lady sitting next to him. A flight attendant came up to them as she received a complaint from a passenger -- a different lady not the one sitting next to Azamat -- who thought that the young lady was sexually harassed by the sportsman. The accusation came as a surprise for the sportsmen, they both denied that anything of such manner was going on and it seemed that the flight attendant agreed that the incident was settled. But since the police later boarded the flight it must have been that the lady who complained to the flight attendant decided to file a complaint to the police.

According to the bronze-winner of the Beijing Olympics and the national taekwondo coach Arman Chilmanov, when they landed in Heathrow none of the passengers were allowed to leave the plane after the 11-hour flight from the United States . The taekwondo team was supposed to connect a flight to Kazakhstan in Heathrow. "Then four police officers entered the plane and apprehended Tenizbayev. Everyone was shocked and nobody understood what was going on," he said.
August 26 2013, 15:19